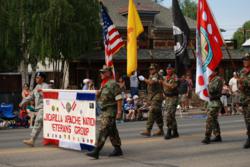 Our gift is such a small thing to do for the men and women in uniform who put their lives on the line for us every day.
Pagosa Springs, Colo. (PRWEB) November 05, 2012
Pagosa Springs in Southwest Colorado today announced a number of military discounts being offered for Veteran's Day and beyond. Pagosa Springs honors armed service members by offering free and discounted rooms at select B&B establishments on Veteran's Day, as well as a number of other discounts year-round.
Jennifer Green, Town of Pagosa Springs Tourism Director, says that Pagosa Springs is the perfect getaway for military veterans and their families. "So often military families are separated by service," says Green. "Pagosa Springs offers many ways to reconnect, relax and rejuvenate. Pagosa features signature hot springs, one of the most family-friendly ski resorts, Wolf Creek, tons of trails for snowshoeing, cross-country skiing and snowmobiling, and even hot air ballooning. Pagosa Springs has something for everyone."
Tom and Pam Schoemig own Be Our Guest Bed & Breakfast. Each year they participate in the 'B&Bs for Vets' program, which offers a free room to those who have served in the military (active or retired). This year they are offering all five rooms in their B&B to military on Veteran's Day. "Our gift is such a small thing to do for the men and women in uniform who put their lives on the line for us every day," says Tom.
Here is a sampling of the military discounts offered in Pagosa Springs.

Be Our Guest Bed & Breakfast: Free rooms for military on Veteran's Day. (970-264-6814)
Elk Trace Bed & Breakfast: 15% discount for veterans or military service members for a stay on Veteran's Day. (970-731-8877)
Elkwood Manor Bed & Breakfast: For the week of Nov. 4-18, all veterans will receive one night free with any multiple night's stay. Price includes a three-course breakfast, as well as a wine-and-appetizer happy hour. Use the promotional code VET when booking. (970-264-9166)
Fireside Inn & Cabins: 15% discount on all cabin rates, as well as discounted hot springs passes for veterans the week of Nov. 4-18. (970-264-9204)
High Country Lodge: In honor of Veteran's Day, this lodge is offering a free night's stay in one of its cabins to one lucky veteran. Call 970-264-4181 – first come, first served! Offer is valid any time of year, excluding major holidays and based on availability. Additionally, High Country Lodge offers a year-round 10% discount to military personnel and veterans. Hot breakfast is included at the lodge, which also features three outdoor hot tubs and a sauna. (970-264-4181)
Mountain Landing Guest Quarters: 10% discount for veterans and military servicemen and women. (970-731-5345)
Pinewood Inn: 10% off any promotion with no black-out dates. (1-888-655-7463)
Quality Resort: 10% off for military personnel. (970-731-4141)
Quantum Travel: $50 off weekly rental rate from Jan. 7-May 3. (800-921-4528)
About Pagosa Springs
Pagosa Springs is located in the Colorado Sunbelt along the western slope of the Continental Divide in southwest Colorado. Pagosa is home to the world's deepest geothermal hot springs aquifer, as recognized by the Guinness Book of World Records, which provides R&R for weary travelers and also heats many downtown buildings and sidewalks. Nestled in the three-million acres of the Weminuche Wilderness and the San Juan National Forest, Pagosa Springs is one of Colorado's most natural escapes. Visitors will find a variety of outdoor activities to participate in including biking, skiing, rock climbing, and horseback riding. Recently, Pagosa Springs was included in National Geographic Adventure magazine's "50 Best Places to Live and Play NOW: The Next Great Adventure Towns edition." To explore what Pagosa Springs has to offer visit http://www.visitpagosasprings.com.