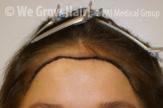 This is particularly relevant to the fairer sex because women usually experience hair loss slightly differently than men do.
Brentwood, TN (PRWEB) November 14, 2012
When one thinks of the typical person in the market for hair restoration procedures, one probably thinks of this person as having a few characteristics: definitely receding, probably thinning, possibly graying. But there's probably one thing that almost everyone thinks about when they imagine the typical hair loss patient: this person is male.
But why? Women suffer from hair loss too- lots of them, in fact. Though women experience hair loss in the form of thinning hair over the scalp rather than receding hairlines like men do, women still can benefit from both surgical and non-surgical means of bringing that beautiful mane back to its former glory.
Unfortunately, some women do not realize that there are options available for them. New laser technology breakthroughs mean that all this should be changing soon.
PAI Medical Group uses low-level laser light therapy to increase blood-flow and follicle microcirculation. The patient simply sits with the machine circling his or her head (might sound scary, but it's perfectly safe). The lower frequency of the laser ensures that skin tissue isn't burned or damaged. The key to this kind of hair loss solution is to increase cell metabolism to cause hair to grow in thicker. This cold laser "stimulates" the scalp, increasing the oxygen and nutrients to the hair bulbs. This can cause thin hair to become thicker as well as revive dormant hair follicles.
This is particularly relevant to the fairer sex because women usually experience hair loss slightly differently than men do: by a gradual process of thinning as opposed to the classic receding hairline that most people think of. Laser therapy is a particularly good option for women because it focuses on thickening sparse patches more so than fixing hairlines.
Plenty of women can benefit significantly from hair transplant surgery or non-surgical techniques like laser therapy. At medical centers that specialize in hair treatments like PAI Medical, female hair loss patients can be helped about 80% of the time.
Lasers are preferable for a number of reasons. It's non-surgical, so it's more comfortable for clients and less of a hassle. It also helps spur faster regeneration of skin tissue when used after more traditional surgical hair loss solutions. People also often try alternative methods of dealing with hair loss, such as creative styling techniques or permanents to make hair seem fuller. Unfortunately, both of these methods can fail due to high winds and excess moisture from rain. Further, another important thing about alternate options to remember is that other, less permanent "solutions" can even accelerate hair loss.
PAI Medical Group specializes in providing hair loss solutions and hair loss prevention treatments for men and women across Canada and the United States.