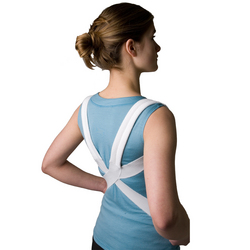 ...I work on the computer for long hours and I have started slouching. I'm very young to start doing that! The shoulder brace certainly met my expectations and now provides me with great support...
Konawa, OK (PRWEB) August 1, 2008
It's been a sell-out success in Australia, now it's available online in the US, through badbackstore.com.
New & exclusive to bad back store
Comfortable, wear-anywhere support
Offers unrestricted movement
Only $32.95
The Bad Backs Essential Shoulder Brace is a comfortable, wear-anywhere posture support, designed to combat rounded shoulders syndrome, which can cause debilitating back and neck pain.
With people spending increasing amounts of time working at a computer, more people are suffering the effects of poor posture.
This Australian designed product has been made for comfort and can be worn everyday.
It offers gentle, but firm support, allowing the shoulders and arms to swing and move freely, and is completely invisible under clothes. You can wear it while sitting at your computer, working physically at a building site, relaxing watching TV or even working out in the gym!
The Bad Backs Essential Shoulder Brace is made of a unique elastic material that is padded where it counts for a soft, luxurious texture against your skin, especially under your arms where other braces can rub. And unlike some other similar products on the market, it's completely washable, making it more hygienic.
Many people suffer from round shoulder syndrome without even realizing until its too late - hunching forward, your shoulders tense, until those painful neck tension and muscle aches start... This supportive shoulder brace works especially well for those times when you can feel yourself getting tired and starting to 'droop' and 'slouch'. The shoulder brace is also appropriate for use as an all-day shoulder support to correct rounded shoulder syndrome caused by unbalanced and/or excessive muscle spasm or contractions.
Features and Benefits:
1. Padded straps under the armpits, provides greater comfort.
2. Adjustable fastening tape allows for easier fitting and comfort.
3. Invisible and inconspicuous when worn under clothes.
4. Allows unrestricted movement, delivering all day comfort.
5. Completely washable, so therefore more hygienic than other shoulder braces available.
"...I work on the computer for long hours and I have started slouching. I'm very young to start doing that! The shoulder brace certainly met my expectations and now provides me with great support..." - M. Yahnian, Pennsylvania, USA
Product Specifications:
Measurements: This supportive shoulder brace is available in an extensive size range to suit all body types ranging from Small, Medium, Large, X Large and XX Large. To determine your size, measure around the ribs, under the armpits. Women should measure under their breasts. Chest should be fully expanded.
1. Small - up to 23.5''
2. Medium - 23.5'' - 33.5''
3. Large - 33.5'' - 39.5''
4. X Large - 39.5'' - 47'.
5. XX Large - 47'' +
If you are borderline between sizes, we suggest you take the next size up.
Color: White
Care Instructions: Machine washable on 'gentle' setting in mesh or laundry bag.
Samples of the Bad Backs Essential Shoulder Brace are available to media for review.
Media Contact & Further Information:
Michelle Ranells
Media Liason
P. 580-925-8787
badbackstore.com
625 State St
Konawa, OK 74849
High quality product and action images are available on request.
About bad back store
With increasing numbers of people suffering chronic back pain and seeking solutions, badbackstore.com is committed to providing information and resources to help ensure sufferers receive informative data enabling them to make informed decisions.
The site features high-quality, ergonomic products ranging from ergonomic chairs to lumbar support and massagers, with the selection largely driven by customer demand and feedback.
Our company directors have over 50 years combined manufacturing and marketing experience in the health industry. Supported by an energetic team of customer service, health professionals, technical, marketing and logistics specialists, we aim to make badbackstore.com number one for pain relief products and customer satisfaction.
Online visitors return to our site to access the latest innovations and developments in spinal care research, which is sourced from leading international research institutes, hospitals, government health resources and increasingly from government approved alternative therapy sources.
###