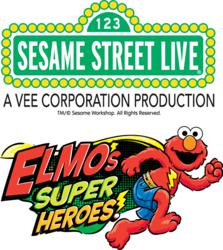 Stamford, CT (PRWEB) March 29, 2013
Calling all super heroes. Super Grover needs your help – and it's Elmo and the Fabulous Five to the rescue when this fantastic musical production zooms into Stamford's Palace Theatre. Join Elmo, Zoe, Abby Cadabby, Telly Monster and Zoe's pet rock Rocco for Sesame Street Live "Elmo's Super Heroes" at the Palace Theatre in Stamford from Wednesday, April 17 through Thursday, April 18. Tickets for all four performances are on sale now at http://www.SCAlive.org.
When Super Grover loses his superness, Sesame Street needs a hero! Never fear, Elmo and his team of super heroes are here. Teaching lessons of healthy habits through song and dance, Elmo, Abby Cadabby and your favorite Sesame Street friends will explore exercise, nutrition, sleep/energy and hygiene – all in a quest to put the "super" back in Super Grover. It's Elmo's Super Heroes to the rescue.
Sesame Street Live "Elmo's Super Heroes" features an array of popular (and healthy!) songs, many of them renditions of tunes that parents will remember and kids will love: "Old MacDonald," "Splish Splash," "Twinkle, Twinkle Little Star" and "Sunny Days." Like television's Sesame Street, each Sesame Street Live production features timeless lessons for all ages. Through the dazzle of this full-blown Broadway-quality show, the production will teach children lessons in healthy habits that they can use long after the show ends. Adults will appreciate the universal appeal of Sesame Street Live, the high-tech stagecraft and cleverly written scripts.
"We are very excited to be working with the Producers of Sesame Street Live again this year," said SCA Executive Director Michael E. Moran, Jr. "This partnership gives us the ability to offer quality family entertainment during the public school vacation week. This is a wonderful opportunity for our community."
What: Sesame Street Live "Elmo's Super Heroes"
When: Wednesday April 17 at 7 PM
Thursday, April 18 at 10:30 p.m. (*Kids' Matinee Offer); 3 PM & 7 PM
Where: Stamford's Palace Theatre, 61 Atlantic Street, Stamford, CT 06901
Tickets: $15, $20, and $25. A limited number of $35 Gold Circle seats and $70 Sunny Seats** are also available. Tickets for the *Kids' Matinee Special are $10 (excluding Gold Circle and Sunny Seats) and open to school or daycare groups with more than 10 children A facility fee of $2 will be added to all ticket prices. Additional fees and special offers may apply.
Special $70 Sunny Seat packages are available at all shows. Sunny Seats feature VIP seats and a pre-show Meet & Greet with two Sesame Street Live friends.
For more information or to charge tickets by phone, please call the SCA Box Office at 203-325-4466. Tickets may also be purchased online at http://www.SCAlive.org. For information online, please visit http://www.sesamestreetlive.com. Become a fan of Sesame Street Live on Facebook.
About Sesame Workshop
Sesame Workshop is the nonprofit educational organization that revolutionized children¹s television programming with the landmark Sesame Street. The Workshop produces local Sesame Street programs, seen in over 150 countries, and other acclaimed shows to help bridge the literacy gap including The Electric Company. Beyond television, the Workshop produces content for multiple media platforms on a wide range of issues including literacy, health and military deployment. Initiatives meet specific needs to help young children and families develop critical skills, acquire healthy habits and build emotional strength to prepare them for lifelong learning. Learn more at http://www.sesameworkshop.org.
About Vee Corporation
Headquartered in Minneapolis, Minnesota, VEE Corporation is one of the most experienced and respected names in family-friendly entertainment. VEE Corporation has delighted millions of children around the world with live touring stage shows since Sesame Street Live's debut performance in Minneapolis, Minnesota on Sep. 17, 1980. VEE also provides entertainment, promotion and event marketing services for the world's most respected brands and agencies. Clients and partners in the corporate, sports, museum and event marketing sector come to VEE for imaginative solutions to capture the undivided attention of their customers and audiences through custom designed/built interactive environments. For more information, please visit http://www.vee.com.
ABOUT STAMFORD CENTER FOR THE ARTS
The vision of the Stamford Center for the Arts is to be the regional arts center for exciting entertainment that enhances and enriches the cultural, educational, economic, and social life of the community. The SCA strives to achieve this vision by demonstrating integrity in all work and relationships, providing service and quality in all activities, fostering and promoting diversity of thought, ideas and culture, providing stewardship for the Stamford Arts community, emphasizing outreach in our community, and offering creativity in all endeavors. Major funding is provided by the Department of Economic & Community Development and Connecticut Office of the Arts. Programs made possible in part by the Fairfield County Community Foundation. The 2012-2013 season is made possible by SCA's Season Sponsors Seaboard Properties, Inc. and the Whittingham Family.
For more information about SCA, please contact:
Michael E. Moran, Jr., Executive Director – 203-358-2305 | mmoran(at)scalive(dot)org
Daniel O. Sierra, Director of Marketing – 203-517-3420 | dsierra(at)scalive(dot)org
Interviews, color art and additional press materials are available upon request.