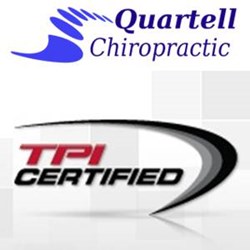 In many cases, it's not your swing, it's your body! Fix your body, and you can fix your swing!
Palm Beach Gardens, Florida (PRWEB) March 07, 2013
David Quartell, DC has recently been certified by the Titleist Performance Institute (TPI) to provide specialized programs designed to help golfers improve their game by identifying and addressing underlying physical limitations.
As a chiropractor, Dr. Quartell knows firsthand that the biomechanics of every good golf swing are based on a foundation of balance, flexibility, strength and stamina. Without these things, it can be difficult or impossible to correct problems, even if you recognize them clearly, have great instructors working with you to fix them and are putting in all the hard work. Dr. Quartell describes the situation that many golfers face this way: "Do you ever feel that you spend all that time at the range and never get better? Maybe you've gone to a golf instructor who informed you that you are 'not making a good turn' or are 'coming over the top' or 'swaying' or 'sliding'? Despite your best attempts to correct these flaws, you fail miserably. Well, why is that?"
According to Dr. Quartell, the answer may be that your body itself is holding you back—problems with balance, range of motion or conditioning can easily translate into problems with your swing. "These physical limitations are some of the reasons you don't make a good turn or you come over the top or you sway or slide." Recognizing this basic truth, the TPI has developed a program to train golf professionals, chiropractors and medical practitioners to understand the correlation between a golfer's physical limitations and his or her swing flaws.
With TPI, Dr. Quartell will perform a 15-minute physical screening that identifies your physical limitations. With an office in Palm Beach Gardens just around the corner from PGA National Resort and Spa, he sees many golfers and understands the difference this can make. "By identifying these limitations, correction of the golf swing is now possible. In many cases, it's not your swing, it's your body! Fix your body, and you can fix your swing!"
About Dr. David Quartell and Quartell Chiropractic
David Quartell, DC received his B.S. in Biology from the State University of New York, New Paltz in 1994 and earned his Doctorate of Chiropractic from Life University in Marietta, Georgia in 1998. He has served as a Technique Instructor at Life University and as both a Lifeguard and EMT.
Quartell Chiropractic
7100 Fairway Drive #33
Palm Beach Gardens, FL 33418
(561) 625-5556
http://palmbeachgardens-chiropractor.com
Follow Quartell Chiropractic on Facebook.