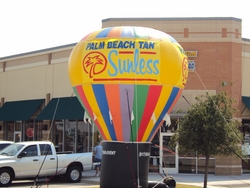 President and COO, Diane Lucas said "Our new concept represents a step up in our brand, redefining the luxury tanning category."
Dallas, Texas (PRWEB) August 13, 2010
Palm Beach Tan, the nation's largest chain of indoor tanning salons, has introduced its newest concept in the luxury tanning and skin care category: Palm Beach Tan Sunless. Palm Beach Tan Sunless joins the company's three existing brands, Palm Beach Tan, Planet Tan and Desert Sun Tanning Salons with 282 corporate and franchised locations nationwide. The new Palm Beach Tan Sunless salon opened August 11th in Frisco, Texas at 5105 Eldorado Parkway in the Parkway Towne Crossing Shopping Center.
Palm Beach Tan Sunless was developed to capitalize on the exploding popularity of sunless tanning. The company has experienced strong growth in sunless tanning services in its existing locations for the past three years. In addition, the new concept incorporates red light therapy beds, a new FDA approved technology that uses LED light to promote the production of collagen in the skin thereby reducing the appearance of fine lines and wrinkles. Along with growth in sunless services, the chain has seen a marked increase in "cocktail tanning", back-to-back sessions of sunbed and sunless tanning. To meet this growing demand, the new Palm Beach Tan Sunless salon will feature the most technologically advanced sunbeds of any salon in its chain. The signature element of the new location is sunless tanning; the Frisco location features more units of Mystic Tan HD and Versa Spa sunless booths than any salon in the metroplex.
President and COO, Diane Lucas said, "Our new concept represents a step up in our brand, redefining the luxury tanning category. As the leading seller of sunless tanning services in the world, we saw an opportunity to create an upscale salon that offers the finest sunless tanning services offered anywhere. Not only do we feature the leading brands of spray tan booths, Mystic HD and Versa Spa, but we will be introducing other sunless services as well in the coming months. With our cutting edge sunless technology, members may customize their sunless experience to achieve just the tanning shade they desire. Plus, they can add tanning intensifiers, extenders, moisturizers, and fragrances for the perfect tanning and skin care session. To complete the concept, we have sourced the most technologically advanced, prestige level sunbed tanning and red light therapy equipment available, all delivered to our members in a beautiful, upscale, spa-like environment. We are excited to introduce this new concept and watch it grow." The new salon will also feature a full selection of tanning and skincare products from Mystic Tan, Versa Spa Skincare Systems, Australian Gold, California Tan, and Ergoline.
Palm Beach Tan Sunless will offer guests the opportunity to purchase services by the session or they may purchase a membership and enjoy unlimited access to all services plus earn tanning rewards with the company's exclusive fully automated Premier Rewards program. Rewards include free tanning upgrades, lotion and skin care discounts, and cash credits. During its Grand Opening, customers will be able to try any sunless session for just $10 or cocktail tanning session for $15, in addition to other specials and offerings.
Founded in 1990, Palm Beach Tan, Inc. is the leader in the indoor tanning industry, operating 282 locations, both corporate and franchised owned under the brands Palm Beach Tan, Desert Sun Tanning Salons, and Planet Tan.   The company offers convenience and a full range of services: multiple levels of tanning beds, sunless Mystic Tanning and Versa Spa Tanning and Skin care, as well as premium skin care products.   For more information about Palm Beach Tan, Inc., please visit http://www.palmbeachtan.com/ or http://www.facebook.com/PBTOfficial.
###