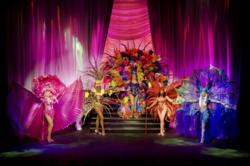 The Fabulous Follies for years have been a huge attraction for Palm Springs area residents and visitors alike.
Palm Springs, California (PRWEB) October 18, 2012
Brad Schmett, Broker Associate with Luxury Homes by Keller Williams and Palm Springs real estate expert has today announced that clients shopping for real estate in Palm Springs are particularly attracted by the diverse entertainment options offered locally. Among the most enjoyed among the older crowd are The Fabulous Palm Springs Follies.
With their self-described "Legendary Line of Long-Legged Lovelies" the Fabulous Palm Springs Follies kicks off a new season of dancing with the Seniors (and we don't mean the high school kind!) starting November 1, 2012 through May 19, 2013. Enjoying the hottest venue in town, the Fabulous Follies dish up the best in Palm Springs entertainment at their trendy theater on Palm Canyon Drive in the heart of the theater and restaurant district.
Former show girls and sizzling entertainers rock the bells every season as they showcase the music and dance styles of the 40's, 50's, 60's and 70's. Energy and vibrancy abound with gorgeous costume changes, hilarious burlesque comedy and Rock n' Roll choreography that raises the roof and the blood pressure! This season is wild with Lorna Luft, Lou Christie and Lesley Gore, to name just a few of the magic hit makers of Older American youth.
Brad Schmett confirms that the many Canadians buying homes in Palm Springs are just as excited about the Follies as everyone else. "They bought many of the same records the rest of us did "back in the day" and they enjoy seeing entertainers in the over 50 crowd who still look amazing and have energy to spare," states Schmett. The Palm Springs area is renowned for its large population of retirees and senior citizens, many of whom own vacation homes or year-round homes across the valley.
The all-new revue is entitled "Dance to the Music" and will feature the most popular dances of the bygone rock era including The Stroll, The Twist, and Disco among others. Perfect acoustics and innovative lighting combine with the flippant humor of host Riff Markowitz, who after having done more than 4500 shows never seems to fall short of breaking up his audience consistently with his hilarity. A great way to top off a delicious dinner, don't miss the Fabulous Follies.
Click on this link for more information on Palm Springs entertainment.
To find out more about investing in Palm Springs real estate visit http://www.PalmSpringsRealEstateInfo.com.
About Luxury Homes by Keller Williams: Luxury Homes by Keller Williams – Palm Springs, is an exclusive, elite and sophisticated group of real estate consultants raising the bar for service in the upper-tier Palm Springs area residential real estate market.