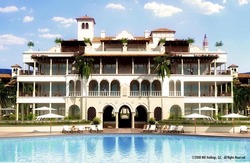 Top 25 Most Extraordinary Minds in Sales & Marketing
Palm Beach Gardens, Fla. (PRWEB) January 29, 2009
Palmera de Cabarete Resort & Spa, opening in 2011 as the first luxury resort on Dominican Republic's north shore, has named KWE group, a Miami-based travel, hospitality and lifestyle marketing firm, to handle global marketing and sales. The $200 million, 138-suite resort is located on 19.5 beachfront acres on 1,000 feet of private shoreline, part of the largest expanse of uninterrupted beach in the Caribbean.
The announcement was made by Darren Law, President and Chief Executive Officer of NID Holdings LLC, developers of Palmera de Cabarete.
KWE group specializes in luxury lifestyle with a focus on destinations, resorts and real estate, and is recognized as a thought leader in luxury lifestyle trends. The firm is headed by President and Chief Strategist Karen Weiner Escalera, who will be responsible for the international marketing and public relations for Palmera. Ms. Escalera was recently named one of the "Top 25 Most Extraordinary Minds in Sales & Marketing" by the Hotel Sales and Marketing Association International (HSMAI).
KWE group's real estate division is directed by Vice President Sandy Carrier, a top real estate sales and marketing professional in the luxury market. The firm's program for Palmera de Cabarete includes international real estate marketing and sales including analysis and planning, sales strategies, development of an elite broker network program, and hands-on involvement in the entire sales process. Ms. Carrier is a Certified International Specialist (CIPS), a charter member of the Broward Master Broker Forum, and an active member of the Urban Land Institute (ULI), South Florida/Caribbean Council. Her accomplishments include marketing and sales for Ocean Reef Club in Key Largo, Fla., Arvida's Weston luxury home community in Weston, Fla., EarthMark Companies' Mariner's Club in Key Largo, Fla., and the DUO luxury property on the Diplomat Golf Course in Hallandale Beach, Fla.
Palmera de Cabarete's management and design team enjoy a pedigree of the world's finest resorts, from Ventanas al Paraiso in Los Cabos to The Regent Palms in the Turks and Caicos. Plans include 138 one- to three-bedroom suites ranging from 2,000 to more than 4,500 square feet. Three expansive, oceanfront freshwater infinity pools provide a focal point for Palmera de Cabarete Resort & Spa, and will be ensconced in eco-friendly garden landscaping. Amenities will also include a full-service branded spa and wellness facility, tennis, gourmet dining, conference facilities, room service, 24 hour concierge, and children's activity program.
Palmera de Cabarete Resort & Spa will offer the first five-star luxury living experience in Cabarete, the adventure sports capital of the Caribbean, offering world-class windsurfing, kite boarding, surfing, mountain biking, hiking, canyoning, and white water rafting.
Luperon International Airport in Puerto Plata is a half-hour drive from Cabarete. Non-stop flights are currently available from Miami (two hours), New York (three hours 40 minutes), with convenient connections with major U.S. and international gateways.
Palmera de Cabarete's pre-opening offices are located in Chicago, Illinois and Palm Beach Gardens, Florida. For more information visit http://www.palmera-dr.com.
Contact KWE group inc. at 305-467-5424. The firm is located at 4425 Ponce de Leon Blvd, Suite 260, Coral Gables, FL 33146. Visit http://www.kwegroup.com.
###