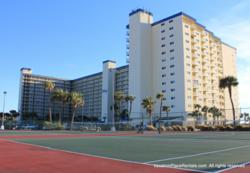 The Best Amenities in Panama City Beach, Florida for Spring Break
Panama City Beach, Florida (PRWEB) March 28, 2013
The Top Family Spring Break Ideas for 2013 Announced by PCBVacation.com
PCBVacation.com announces Spring Break 2013 in Panama City Beach it isn't just for college kids. Find out about the best activities for families in Panama City Beach this year, including the top parks, restaurants and Spring Break attractions, courtesy of PCBVacation.com, the area's one-stop site for premier vacation rentals.
Many people think of Panama City Beach Spring Break as a place for college kids to get rowdy. But, thousands of families visit PCB for Spring Break every year and have a fabulous time. In fact, many vacation condos don't even rent to visitors under 25 and choose to focus on families instead.
The reason? So that moms and dads and kids can come down and enjoy their family Spring Break activities as much as the college kids enjoy theirs.
Family Spring Break ideas in Panama City Beach are as varied as the fish in the beautiful Gulf of Mexico. From golfing to parasailing to educational activities, there is plenty to keep any family busy and happy during a Spring Break Vacation.
These are some of the family Spring Break ideas available for 2013:
Live events – Spring Break 2013 is packed full of special events perfect for vacationing families. Included in the line-up are several art shows, the Groovin' on the Green free music series, the Seabreeze Jazz Festival, the Sunday Market at Grand Lagoon, and the Spring Skim Jam competition.
Plus, kids and parents can catch free pancake breakfasts with lots of exciting games at Rock'It Lanes, the whole family can enjoy historical tours at the Panhandle Pioneer Settlement, and Mom and Dad can see a whole slew of country music concerts, including one by Florida Georgia Line at Sharky's.
For more information, check out the Panama City Beach visitor's center.
Parks – Some of the best places to start for fun and relaxing family Spring Break ideas are the many parks located around Panama City Beach. Just minutes from most PCB vacation rentals is St. Andrews State Park where families can do everything from snorkeling to fishing to deer-watching, all surrounded by beautiful sand dunes and blue Gulf waters. There's even a ferry over to secluded Shell Island, preserved in its natural state just for visitors.
Also nearby are Pine Log State Forest, famous for its bird-watching, Rick Seltzer Park with showers and shops right on the beach, and Frank Brown Park, a modern sports park with softball and soccer fields, hiking trails and a brand-new aquatic center for plenty of good, high-energy fun during your family Spring Break vacation.
Attractions – Every year, the list of things to do in Panama City Beach during Spring Break just gets longer and longer. In 2013, fun family Spring Break ideas could include anything from visiting with dolphins to experimenting with amazing science projects.
ZooWorld in Panama City Beach is always a choice idea for families, especially this year with the addition of several new animals, including two baby giraffes and a baby camel. Gulf World Marine Park has a line-up of new shows, including bird shows, dolphin shows and a sea lion show. And Capt. Anderson's is now offering a Panama City Beach Seafari that tours St. Andrew Bay on a boat with a 1,000-gallon Sea Life Viewing Well.
In addition to the popular Ripley's Believe It or Not museum, Panama City Beach now offers an exciting new family Spring Break idea in the form of an upside down building that houses WonderWorks. The science-themed attraction features everything from a Bubble Lab to a hurricane simulator to the always-exciting Lazer-Tag.
And, for those with a taste for nostalgia, one of the newest family Spring Break ideas in Panama City Beach is the Miracle Strip at Pier Park. Long-time visitors to PCB might fondly remember the old Miracle Strip made up of carnival rides and games. Those great times have been revived at Pier Park with a host of vintage rides for the whole family, including the original carousel and Ferris wheel, as well as a new butterfly pavilion.
Meanwhile, as always, Panama City Beach has great food, great golf, great shopping and great nightlife for any Spring Break vacation, whether families or college students (including the world-famous Club La Vela.
And the area is perfectly located for day trips to a bevy of exciting destinations like the pre-historic Wakulla Springs, the beautiful movie-setting town of Seaside, and the antique shopping capital in Havana, Fla.
With Spring Break 2013 starting any day now, take advantage of these family Spring Break ideas to plan an extraordinary vacation that the whole family will remember for years to come.
And don't forget, PCBVacation.com is here to help you with all your vacation rental needs. We are the area's premier website for Panama City Beach vacation rentals and an instrumental part of any family Spring Break idea planning.