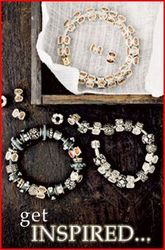 Pandora will donate a portion of proceeds from OneWorld Health Charms to The Institute for OneWorld Health which works to save lives in third world countries by providing affordable vaccines. The majority of vaccines developed and distributed by OneWorld Health, go to women and children
Ann Arbor, MI (PRWEB) November 3, 2008
LewisJewelers.com will offer Pandora's philanthropic OneWorld Health Charm for purchase at its online Pandora Jewelry store at http://www.LewisJewelers.com/pandora_bracelets beginning November 3, 2008.
"Pandora will donate a portion of proceeds from OneWorld Health Charms to The Institute for OneWorld Health which works to save lives in third world countries by providing affordable vaccines. The majority of vaccines developed and distributed by OneWorld Health, go to women and children," commented Ron Peterson of LewisJewelers.com.
Dr. Victoria Hale, Ph.D., founded The Institute for OneWorld Health as the first nonprofit pharmaceutical company in the U.S. to develop safe, effective and affordable new medicines for the world's most impoverished communities. Since 2000, they have been working to provide lifesaving medicines for those who need them the most but can afford them the least.
The OneWorld Health Charm is a sterling silver dangle charm with 14K gold accents. The dangle is a drop shape made of cubic zirconia. The dangle design represents clean water, the main preventative of disease. The item retails for $80 USD.
In addition to offering Pandora jewelry at its website (http://www.LewisJewelers.com/pandora_bracelets), Lewis Jewelers, a jewelry expert located in Ann Arbor, Michigan offers a vast selection of jewelry including 27 top designer jewelry brands made in platinum, white or yellow gold, along with 13 major watch manufacturers, fashion accessories and gifts.
About Lewis Jewelers
Lewis Jewelers is proud to carry the full line of Pandora Jewelry. Pandora bracelets, Pandora charms and Pandora beads are only a part of the collection. For more information, contact Lewis Jewelers, 2000 West Stadium Blvd., Ann Arbor, Michigan, 48103, 877-88-LEWIS or visit http://www.LewisJewelers.com/Pandora_Bracelets/, http://www.PandoraBraceletsUSA.com , or http://www.LewisJewelers.com.
CONTACT:
Lewis Jewelers
2000 West Stadium Blvd
Ann Arbor, Michigan
877-88LEWIS
info @ pandorabraceletsusa.com.
# # #