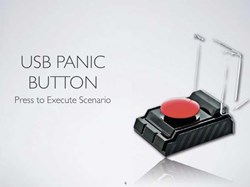 Desktop Alert is the sole provider nationwide to both the National Guard and the Air National Guard for IP-Based Mass Notification. The new panic button feature seamlessly integrates with the National Guards DTA Mass Notification System
Chatham, NJ (PRWEB) May 08, 2012
Desktop Alert Inc., today announced that the National Guard has purchased the newly released Desktop Alert (DTA) USB Panic Button integration kit as an important protective measure to enhance force protection at crucial installation gate locations. The initial deployment of panic buttons will be installed across the state of Florida at various Florida National Guard locations.
Desktop Alert is the sole provider nationwide to both the National Guard and the Air National Guard for IP-Based Mass Notification. The new panic button feature seamlessly integrates with the National Guards DTA Mass Notification System.
Gate located panic buttons are covered with a clear protective shield to prevent accidental activations. Once guardsmen or security personnel activate the panic button alerts are triggered in 10 seconds or fewer and instantly sent to targeted computer workstations, key personnel landlines and cellphones as well as e-mail accounts and mobile devices for text message delivery. Post activation reports are then immediately published real-time for review of which targeted personnel acknowledged the alert.
"This provides superior actionable-intelligence for our military clientele. Each panic button can be mapped to a preconfigured alerting scenario by selecting the scenario from a drop menu within the pop-up alerting interface installed on National Guard workstations. The panic buttons are now available for both USB wired and wireless configurations," said Howard Ryan, Chief Research and Development, Desktop Alert Inc.
Panic buttons also ensure the personal safety of mental health workers.
About Desktop Alert Inc (http://www.desktopalert.net)
Worldwide U.S. Military organizations such as The United States National Guard, The United States Air Force Academy, The United States Military Academy at West Point, Multi-National Forces in IRAQ, The U.S. Air Force, The U.S. Army now utilize the DTA mass notification platform daily for their organizations emergency communication requirements. Desktop Alert can contact thousands of users with desktop alerts and require receipt confirmation of the message. Those not verified can then be listed on a report and/or sent as a "Target Package" to be automatically contacted by other means such as email, SMS, phone calls and other devices.