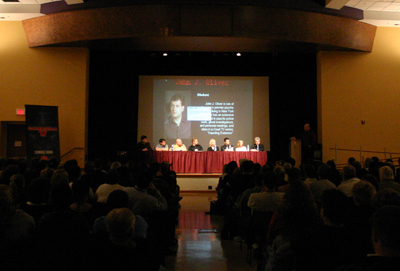 Some of the speakers are up in age and don't do appearances anymore, but they've agreed to come to UNIV-CON.
State College, PA (PRWEB) June 21, 2007
Paranormal enthusiasts and ghost hunters from around the country will flock to Penn State this October for UNIV-CON, the national paranormal conference. The conference committee unveiled its list of speakers earlier this week, which include several world-famous paranormal experts, researchers and celebrities.
This year's conference, held October 18 - 21, is being called "historic" by conference organizers.
"The group of people that we're bringing in this year is a dream come true for anyone who's in to the paranormal," said UNIV-CON founder Ryan Buell. "Some of the speakers are up in age and don't do appearances anymore, but they've agreed to come to UNIV-CON."
John Keel, famous for writing "The Mothman Prophecies," which later spawned in to a feature film starring Richard Gere, will be coming out of retirement to give a rare appearance. Keel is considered to be the most original and controversial UFO researcher of our time. Keel will speak on Saturday, Oct. 20.
Lorraine Warren is perhaps one of the most famous paranormal investigators on the planet. She and her late husband, Ed, traveled the world and researched thousands of paranormal cases. Their stories have been published in to over a dozen books and several feature films. Warren will team up with a real-life exorcist from the Roman Catholic Church to discuss demonology on Friday, Oct. 19.
Fans of Sci Fi Channel's "Ghost Hunters" will get to meet the stars of the show, Jason Hawes and Grant Wilson on Sunday, Oct. 21. Hawes and Wilson, who've appeared at UNIV-CON for the past four years, will return to discuss their show and the evidence they've collected. "Ghost Hunters" is one of TV's most popular programs on the supernatural.
Other speakers and guests include Patrick Burns, co-star of Court TV's "Haunting Evidence"; demonologist Keith Johnson; Dr. David Hufford; Dr. Dale Graff; parapsychologist Loyd Auerbach; nationally renowned medium Chip Coffey; star of Biography Channel's "Dead Famous" Chris Fleming; author and vampire researcher Michelle Belanger; filmmaker Chad Calek; the cast of the upcoming A&E show, "Paranormal State" and more.
Now in its sixth year, UNIV-CON appeals to both the die-hard paranormal investigator and the casual enthusiast looking to have a good time during the Halloween season. Many consider UNIV-CON to be the largest paranormal conference in the country, drawing thousands from previous years.
Aside from lectures and workshops, UNIV-CON offers competitive entertainment and other features, such as a large vendor and marketplace, haunted trolley tours, ghost hunts at some of Penn State's most haunted buildings, dinner theater, social outtings, charity events, a haunted exhibit and more.
This year's key entertainer is Doug Bradley, famous for playing the character Pinhead in Clive Barker's "Hellraiser" movies. Bradley will perform a series of one-act plays on death.
UNIV-CON is organized by the Penn State Paranormal Research Society. Tickets are currently on sale for UNIV-CON, which can be purchased by visiting their official website.
# # #