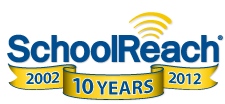 St. Louis, Missouri (PRWEB) November 20, 2012
SchoolReach, a leading automated parent notification service used by public, private and parochial schools throughout the United States, is celebrating two important milestones: its 10 year anniversary and the three-and-a-half millionth broadcast sent through its system.
"For the past ten years, we've provided our affordable school notification service to help school officials deliver important messages to parents and staff," said Joe Palacios, CEO of GroupCast, LLC, the providers of SchoolReach. "We take pride in the role we have played in helping our customers increase parent involvement, improve student attendance, and save money."
Used by thousands of schools across all 50 states, the web-based SchoolReach system allows school administrators to send a recorded voice, email or text message to parents, teachers, staff or community members within minutes. SchoolReach customers have sent more than 3.5 million broadcasts through its system, which amounts to more than half a billion individual voice, email and text messages.
The three-and-a-half millionth SchoolReach broadcast came from the Monroe County School District in Tennessee. Monroe County is the 4th largest county in the state of Tennessee, and district schools serve 5,500 students across 12 different campuses. The Monroe County School District began using SchoolReach in 2005.
Over the past seven years, Monroe County administrators have taken full advantage of SchoolReach notification programs. Gary Sharp, the district's director of technology, said, "At first, we purchased SchoolReach to call about absentees. We didn't realize all the ways that people in the district could use it." Since then, the district has successfully used the SchoolReach system for everything from school closing and absentee notifications to staff communications and health and safety alerts.
The Monroe County SchoolReach broadcast was a message notifying bus drivers that bus maintenance was being delayed. According to Mr. Sharp, SchoolReach has simplified staff communications of this nature. "We have 17 different subcontractors who operate our bus lines," Sharp said. "SchoolReach allows us to easily notify drivers about things like scheduled maintenance or school closing changes." Sharp further noted that the district's wide footprint and diverse geography make communications like this very important. In bad weather, for example, some Monroe County schools can remain open while others must be closed. In those situations, SchoolReach allows the district to notify only those bus drivers affected by the closings.
"The great thing about the SchoolReach system is that it helps districts like Monroe County be more productive," said Palacios. "With our diverse set of programs and smartphone apps, schools can solve difficult communications challenges while saving time and money."
About SchoolReach
SchoolReach is the K-12 division of St. Louis-based GroupCast, LLC, a broadcast voice, email and SMS notification provider. More information about SchoolReach can be found at http://www.schoolreach.com and http://www.cyberbullyhotline.com.