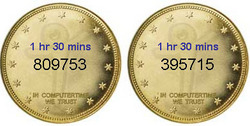 Got an 'A' on your science test.
Branford, CT (Vocus) December 10, 2008
With ComputerTime version 3.1, parents can use special new Gold Coin and Certificate-style "Time Tokens" to give their children more time on the computer. ComputerTime is software that allows parents to set time limits on their children's computer use. Flexible limits can be set including daily, weekly, monthly, or according to time of day. The new Gold Coin and Certificate styles make Time Tokens more fun for kids and a better motivational tool. The Certificate even includes a spot for parents to write the specific reason for the reward, such as, "Helped with making dinner," or, "Got an 'A' on your science test."
As one parent using ComputerTime said, "Tokens allow us to remotely control usage and help motivate to do household chores. I always have a small card of tokens in my wallet so I can motivate/reward over the phone."
Time Tokens are six-digit codes with an associated amount of time that can be given out by parents to provide extra time without changing the normal limits set for each child through ComputerTime. Parents can use them to reward children for offline achievements and to positively reinforce good behavior. A parent gives this code to the child who simply enters it into ComputerTime to extend their time.
ComputerTime has been helping parents set computer limits for years, keeping peace by avoiding fights over the computer.
About SoftwareTime, LLC
SoftwareTime provides families with helpful software products such as ComputerTime. For more than four years, parents around the world have been counting on simple solutions from SoftwareTime to improve the quality of their families' lives. SoftwareTime maintains a blog with interesting, helpful articles about families and technology. Visit SoftwareTime at http://www.softwaretime.com.
###