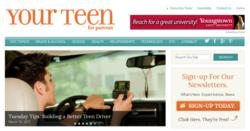 Parents, teens and professionals will enjoy the new design that reflects the feedback ... from loyal readers
Beachwood, Ohio (PRWEB) March 29, 2013
Your Teen Magazine for Parents has launched a redesign of its website that helps visitors navigate hundreds of articles, blog posts and other content organized in over 50 categories that reflect everything from teen driving and teenage drinking to planning for college and bullying.
View the website here:
http://www.yourteenmag.com
Highlights of the website:

Showcases content choice quicker than ever before
Uses the latest visual technology to make website navigation much easier
Provides instant access to the latest articles via the Your Magazine for Parents e-mail newsletter
Includes exclusive information that's not available in the quarterly print edition
Features dozens of new categories that match a wide array of interests, including family relationships, gay teenagers, celebrity interviews, teen sex, expert advice, survival guides for parents, teen texting and more
"Parents, teens and professionals will enjoy the new design that reflects the feedback we've received from loyal readers," Editor in Chief/Publisher Susan Borison says. "Sign up for the weekly newsletter and receive every new post directly at your email inbox."
The updated online version of the magazine continues to direct visitors to popular areas like social media profiles (including Twitter, Facebook and Pinterest), podcasts, videos and events.
About Your Teen Magazine for Parents
Your Teen addresses the challenges inherent in raising teens and helps parents to continue the journey toward the goal of successful parenting. In the magazine format, parents can pose questions, offer personal tactics and hear the different perspectives of professionals, other parents, and teenagers on relevant topics. Your Teen hopes to ease the worry.
Your Teen is available in Barnes & Noble.