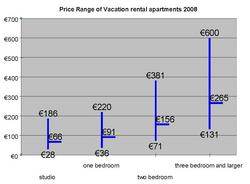 With a continued uncertainty surrounding the market, reading this report can give valuable ideas about how to position your Paris apartment to provide the optimal income
New York, NY (PRWEB) March 10, 2009
The 2008 2nd half and full year Furnished Apartment Rental Market Report, compiled by New York Habitat, analyses the 2008 market, looks ahead to 2009 and gives you detailed graphs on everything from pricing to neighborhood selection. With this information, renters, owners and potential investors can better determine prices of furnished Paris apartments, what neighborhoods are popular and which types of apartments are renting the most.
Some conclusions from the 2008 Paris Furnished Apartment Market Report include:

Pricing of Paris accommodations declined slightly in the 2nd half of 2008 as a strong recession began, but this drop in prices was able to help support rental levels.
Unfavorable exchange rates for the euro to world currencies in the 1st half of 2008 when the economy was stronger made a price rally difficult.
Rentals shifted from 1-bedroom apartments towards studios as people look for more inexpensive ways to enjoy Paris.
This report contains graphs, data and charts on the Paris vacation rental and furnished apartment markets for the 2nd half and full year of 2006, 2007 and 2008. This report along with all of the previous reports can be found on the Paris Furnished Apartment Market Report webpage. Some of the key information provided in this report includes:
Average rental price by neighborhood
Neighborhoods rented
Average rental price by apartment type
And more
The graph presented in this release is one example of the charts and tables that can be found in the complete report. The sample graph shows the price range of vacation rentals by apartment type in 2008.
"With a continued uncertainty surrounding the market, reading this report can give valuable ideas about how to position your Paris apartment to provide the optimal income," says report creator Brian Lowenberg. He goes on to say, "Tourists and business travelers continue to flock to Paris even in these tough times, making it especially important to analyze this report before traveling to Paris or before offering an accommodation in the Paris market."
The 2008 2nd half and full year market report as well as all previous reports are available in PDF format on the Paris Furnished Apartment Market Report webpage. Additional tips, the latest information and news about the Paris market as well as neighborhood information, Paris events and company information is available on New York Habitat's Blog.
New York Habitat has two decades of experience in the furnished apartment rental market, specializing in rentals in New York, Paris, London and the South of France. The company is a fully licensed real estate broker. We have offered rentals in Paris since 1996. The company's continued success in 2008 shows that New York Habitat remains in touch with the Paris market. Our team of real estate professionals provided sound advice throughout 2008 to both renters and owners. New York Habitat strives to connect people and apartments through its rental service. Click here to view our Paris Apartment offerings.
We invite you to contact New York Habitat for more information about the market report at +1 (212) 255-8018 or marketreport@nyhabitat.com. Your input helps up to make the market report more relevant. If you need help with any of our services including, renting an apartment, listing an apartment, corporate relations or student housing e-mail us at info (at) nyhabitat (dot) com
###