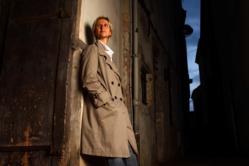 A slick, highly realistic, and impeccably crafted thriller.
New York, New York (PRWEB) March 28, 2013
Mystery and thriller e-book publisher Le French Book announced that it will translate the next two books in the Paris police procedural series by Frédérique Molay that it launched in October with The 7th Woman. This first book won France's most prestigious crime fiction award, the Prix du Quai des Orfèvres, and was named Best Crime Fiction Novel of the Year. It has sold over 150,000 copies.
ForeWord Reviews called it "a slick, highly realistic, and impeccably crafted thriller. Likeable characters, outstanding pacing, and unexpected plot twists keep readers guessing throughout…an extraordinary, hard-hitting novel."
The series revolves around Chief of Police Nico Sirsky and the elite criminal investigation division in Paris. In the first book, they race against the clock to stop a dangerous serial killer as he gets closer and closer to the chief's inner circle. In the second, they are called to a crime scene at one of the city's medical schools, and what looks like some kind of prank turns out to be much more dangerous. The third book in the series takes readers to the Parc de la Villette, which used to be the city's slaughterhouse. The media is focussing on archeological digs when a horrible discovery is made, and the "butcher of Paris" starts spreading fear throughout the city.
Molay writes "the kind of suspense that makes you miss your subway stop," says one radio reporter. She combines spot-on police procedure, chilling forensic details, and edge-of-your-seat suspense. It's like the series Bones or CSI moving to the French capital city.
Frédérique Molay has written five books, with three in the Chief Inspector Nico Sirsky series. She graduated from France's prestigious Science Po and began her career in politics and the French administration. She worked as Chief of Staff for the Deputy Mayor of Saint-Germain-en-Laye, and then was elected to the local government in Saône-et-Loire. Meanwhile, she spent her nights pursing a passion for writing she had nourished since she wrote her first novel at the age of eleven. Molay dedicated her life to writing after The 7th Woman turn out to be a tremendous hit in France and subsequently an international bestseller.
"Today, with the series, I want readers to get drawn into the plot and the suspense while they enjoy reading about characters they love, like when you see old friends again," the prizewinning author says.
Anne Trager, who founded Le French Book to bring the country's top thrillers and mysteries to new readers, said, "This series brings a whole new dimension to Paris, with both realism and suspense. And there's something to be said about it being written by a French woman who knows her stuff."
Jean Miot, journalist, former head if Agence France Press says that "Frédérique Molay is the French Michael Connelly." Could she do for Paris what Michael Connelly has done for Los Angeles?
Praise for Frédérique Molay and The 7th Woman:
New York Times bestselling author Robert Dugoni: "The 7th Woman is a taut and terror-filled thriller. Frédérique Molay navigates French police procedure with a deft touch, creating a lightning quick, sinister plot with twists and turns that kept me reading late and guessing to the very end. Inspector Nico Sirsky is every bit as engaging and dogged as Arkady Renko in Gorky Park and is sure to become a favorite with readers in the United States and around the world."
Paris mystery writer Cara Black: "The 7th Woman blends suspense and authentic police procedure with a parallel tale of redemption. Well-drawn characters and ratcheting tension won't let you put the book down. I read this in one sitting."
About Le French Book
Le French Book (http://www.lefrenchbook.com) is a New York-based digital-first publisher specialized in great reads from France. It was founded in December 2011 because, as founder Anne Trager says, "There is a very vibrant, creative culture in France, and the recent explosion in e-reader ownership provides a perfect medium to introduce readers to some of these fantastic French authors." Anne has lived in France more than half of her life, has 26 years of experience in the translation business and 15 in publishing. Co-founder Fabrice Neuman is French and the company's tech consultant. He is one of France's foremost proponents of e-books and one of the first French journalists to write about them in the mid-1990s. The core team also includes the American translation editor Amy Richards, who is based in Ohio and has a long, award-winning career in writing and editing.
©2013 Le French Book, Inc. All rights reserved. Information is subject to change without notice.