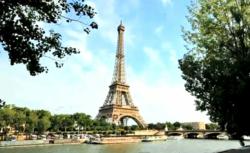 CobbleStay offers an alternative to hotels when looking for Paris Vacation Rentals.
Newport Beach, CA (PRWEB) March 29, 2013
The great Thomas Jefferson once said that a walk in Paris will provide lessons in history, beauty, and a point of life. Representatives with an online travel service called CobbleStay.com say that the Spring and Summer are great times to visit Paris, which is known for its romance, adventure, and culture.
Due to recent growth, CobbleStay has recently hired two new full time reservation specialists. "We are committed to maintaining the high quality customer service our guests have come to expect", says Drew Graham, founder of Cobblestay.com.
Graham, who after working in Paris as an executive for Yahoo and Kelkoo, returned to California to launch CobbleStay.com. Graham launched the service because his research showed that travelers want to maintain 'comforts of homes' while traveling abroad. Not staying in hotels is a choice travelers are making more and more.
Once you have a solid home base set up, you can enjoy all that Paris has to offer. "After a long day taking in the city, you can unwind and relax in one of our luxury apartments," Graham said, before adding, "The mission of CobbleStay is to simplify the way you discover and reserve luxury apartments in Paris. We achieve this while providing dedicated customer service from North Americans with a staff that understand the needs of fellow travelers. The next time you're researching Paris Vacation Rentals, check out one of the many CobbleStay properties to find one right for you."
According to a Paris tourism report from the Convention and Visitors' Bureau, Notre Dame and Sacré-Couer are Paris's top two attractions, with 13.6 million and 10.5 million visitors, respectively. Behind these two, Musée de Louvre, receives 8.4 million visitors, while the Eiffel Tower attracts 6.9 million tourists. Centre Pompidou takes in 5.5 million visitors.
CobbleStay, which has been featured in USA Today and the Los Angeles Daily Pilot, according to Graham, offers the comforts of home while traveling in Paris.
CobbleStay has also been honored with the TripAdvisor / FlipKey 'Rated Excellent' Award.
In fact, one Trip Advisor reviewer from New York recommended CobbleStay.com's 026L Eiffel Balcony Family Penthouse. The reviewer described the four-bedroom, two bathroom condo/apartment that accommodates seven people, as a perfect Parisian apartment.
"This apartment was perfect for our group," the reviewer wrote. "A great location, close to the metro, a short walk to the Eiffel Tower, Arc de Triomphe, Champs Elysses and tons of great cafes. It's in a very safe residential area. There is plenty of room throughout the apartment and a beautiful view from the balcony. A great place to call home during your stay in Paris."
Positive experiences like this will foster growth for CobbleStay, and give them the ability to add additional staff in the coming years.
For more information, please visit: http://www.cobblestay.com
About Cobble Stay
CobbleStay.com is an online travel service, providing real-time booking of privately-owned, short-term apartments in Paris for travelers seeking a unique and sophisticated alternative to the typical hotel experience.
CobbleStay.com seeks to transform "outsiders into insiders" by providing a positive booking experience for both travelers and property owners through a range of products and services.