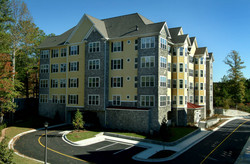 Stone Mountain, GA (Vocus) March 12, 2009
Isakson Living, developers of nationally recognized, award-winning residential communities offering a continuum of care, is pleased to announce the Vintage Home Plan at their Stone Mountain community, Park Springs. In order to deal with today's challenging housing market, Park Springs has introduced the Vintage Home Program, which allows Members to defer payment of their entry fee until their existing home sells. The Vintage Home Plan allows prospective residents over the age of 62 to move into the community now, and Park Springs will handle the details of selling their existing home, including listing, staging, showings, negotiating sales price and more.
Prospective residents have the option to begin enjoying the incredibly enriching and secure lifestyle available at Park Springs without the worry of selling their home in today's trouble housing market. The Vintage Home Plan is a great opportunity for seniors to take control of their future, protect themselves from the rising costs of long-term health care, and start enjoying the freedom they deserve at Park Springs.
With the Vintage Home Plan, residents pay a 10 percent downpayment on the entrance fee and start enjoying the fun, comfort and health care protection only Park Springs provides, with the remaining balance due after the existing home has sold and the transaction has closed. The Vintage Home Plan offers two options: The As Is Plan and The Property Update Plan. The As Is Plan is for those whose homes are ready to sell just the way they are. Park Springs will handle everything necessary to sell the home, including taking care of utilities and maintenance. The Property Update Plan is for those whose homes need a few upgrades before going on the market. Park Springs will handle everything regarding the updates, from finding the crews to do the work and negotiating prices to making sure everything is done right and on time. Interested seniors should contact a residency counselor at Park Springs at 678-684-3300 for all the details.
MORE
Page Two, Park Springs, Vintage Home Plan
Park Springs enhances life for active seniors by providing independent residences alongside extensive amenities, on-site wellness and private health care facilities. The 398-home campus-style community is situated on 54 acres surrounded by Stone Mountain Park. A 64-suite health center provides assisted living, skilled nursing and dementia/Alzheimer's care. The campus style community boasts a 50,000 square foot clubhouse serving meals in four themed dining rooms daily and a 12,000 square foot fitness center with an indoor swimming pool. The Seniors Housing Council of the National Association of Home Builders named Park Springs a Platinum winner. Park Springs is developed by Isakson-Living and managed by Life Care Services LLC (LCS), a leader in senior living communities. LCS today serves more than 23,000 residents daily in over 80 communities nationwide. For more information on Park Springs, call 770-879-5006, 800-267-7126 or visit http://www.parkspringscommunities.com.
Isakson Living is Atlanta's leading developer of residential communities offering a continuum of care for adults ages 55 and older. Isakson Living upholds a personal and professional commitment to empowering members through groundbreaking wellness opportunities, concierge medicine and hands-on involvement in their communities. Isakson Living has won multiple awards for its flagship community, Park Springs in Stone Mountain, Ga., and Peachtree Hills Place in Atlanta, currently in development. For more information on Isakson Living, visit http://www.isaksonliving.com or call 770-559-4829.
Media Contact:
Amanda Winters
770-383-3360x27
Flammer Relations, Inc. http://www.FlammerPR.com
# # #