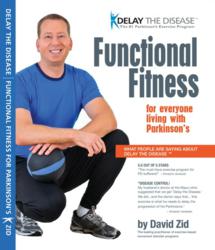 "Exercise allows you to manage the disease. It puts you back in control and gives you, and those around you, hope." ~David Zid
Columbus, OH (PRWEB) January 14, 2013
New Parkinson's program, Functional Fitness for Parkinson's, is a user-customizable modular exercise program designed to alleviate needless Parkinson's suffering while accomplishing daily tasks. This regimen gives everyone with Parkinson's disease -- regardless of physical condition or present disability -- the opportunity, knowledge, and tools to increase physical strength, agility, range of motion, stamina, and most importantly, confidence and quality of life. By addressing situational movement challenges and specific exercise sequences for overcoming them, patients regain independence with activities of daily living (ADL's).
For most of us, being able to pass through an open doorway, get out of a car, dressing, or simply walking in a crowd is something we take for granted. However, for people with Parkinson's disease, being able to perform ADL's such as these can be a struggle. This program clearly demonstrates tips for accomplishing daily tasks with corresponding exercises to help conquer everyday challenges of living with this disease. The latest research is showing promise that exercise has the ability to not only slow the progression of the disease but perhaps even reverse it.
What the professionals are saying about Delay the Disease™ :
"The last major breakthrough in our understanding of treating and altering the course of Parkinson's comes in the form of dedicated exercise routines…programs like Delay the Disease …demonstrate significant, and in some cases, breathtaking reversal of disability…" -- Lawrence W. Elmer, MD, Ph.D. Professor of Neurology, Director -- The Center for Neurological Health, Director -- Parkinson's Disease and Movement Disorders Program, University of Toledo
"One of the most important and successful parts of our Parkinson's treatment regimen is the addition of Delay the Disease . Every one of my patients is advised to pursue it. Many of our patients find the program to be as or more valuable than the medications we use." -- Geoffrey A. Eubank, MD, ABPN, Neurological Associates, Ohio Health
What people living with Parkinson's are saying about Delay the Disease™ :
"My husband's doctor at the Mayo Clinic suggested that we use this program. We did…and the doctor says that this exercise is what he needs to delay the progression of his Parkinsons." - Amazon reviewer
Delay the Disease™ is an evidenced-based fitness program designed to empower people with Parkinson's Disease by optimizing their physical function and helping to delay the progression of symptoms - created by David Zid, BA, ACE, APG, with Jackie Russell, RN, BSN, CNOR.
Functional Fitness for Parkinson's is available in a 2-disc DVD format and a spiral-bound, tabbed book at Amazon, or at the Delay the Disease™ website delaythedisease.com.