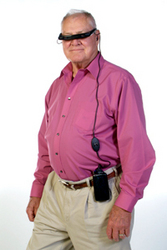 Washington, DC (PRWEB) August 23, 2009
Freezing of Gait (FOG) is an often incapacitating symptom common in Parkinson's disease. Parkinson's patients experiencing FOG feel as if their feet are glued to the floor. Will power to keep moving has no effect, leaving the Parkinson's patient frozen in place. The associated physical and psychosocial consequences have a great impact on the patients' quality of life, and injuries are common as the end result is often falling.
Neurologists prescribe pharmaceuticals commonly causing an array of side effects including mood changes and hallucinations. Furthermore, at advanced stages, FOGs are resistant to treatment with medications.
The resultant loss of independence and treatment costs of injuries add substantially to the health care expenditures associated with Parkinson's disease.
Doctors have known for over 50 years that Parkinson's patients suffering from FOG can walk almost normally when certain visual cues are placed in their path. The use of tranverse lines drawn on the floor have been studied extensively with good results.
Some challenges have kept this treatment strategy from leaving the clinical study setting:
1. The requirement of drawing cues on the ground in the patient's own environment.
2. The distance between the visual cues needs to be regularly adjusted to be appropriate for different ways of walking during different parts of the day and at different days.
The GaitAid device was developed to provide the benefits of this treatment strategy while solving these problems. It provides easy to use state of the art technology to display these cues through special glasses. The device provides cues which are automatically appropriate for each step taken no matter how big or fast. It is like having an expert physical therapist at your disposal drawing the cue needed for your next step just where it needs to be. In addition, clinical research has shown that, by providing separate cues for each foot as provided by the GaitAid, the improvement is two fold what was achieved by the transverse lines (same for both feet) strategy.
The GaitAid is the first device to offer a lasting improvement in walking as opposed to other devices on the market targeting FOG. With the GaitAid, one has the opportunity to train and improve so that later improved walking is possible without the device.
Following two months of his wife's training with the GaitAid, Dan Crace from Hamilton, Alabama reported: "Jeannes freezups are almost non existant now, with only an occasional occurrance if she is over tired or walking in a crowd, and her shuffle has improved to a steady gait. This appears to be a lasting effect and I see no signs of regression between training periods. With her new improvements Jeanne is much more confident and more involved in our social activities which involves playing mountain music. Yesterday she mentioned trying to play the fiddle again."
Clinical studies with the GaitAid have shown the device to be as effective as drugs and surgery with the effects often lasting for several days after practice.
The GaitAid is available for a 30 day trial period from MediGait's website: http://www.medigait.com
For more information:
http://www.medigait.com
888-777-9906
###