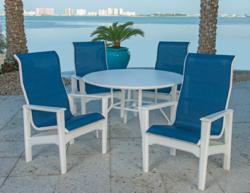 The quality and look of our new Marine Grade Polymer collection is unmatched.
Lexington, VA (PRWEB) March 20, 2013
ParknPool has, once again, added to their product line and expanded their selection of pool furniture. As a leading online and catalog distributor of commercial grade outdoor furniture and site amenities, ranging from pool furniture and park benches to playgrounds and bleachers, ParknPool recognizes the need to offer their clients quality products that can be relied on. These Marine Grade Polymer products are made of High Density Polyethylene, a durable material that will not swell, rot, splinter, warp, fade or chemically break down when exposed to humidity, water or sunlight. It is 100% recyclable, environmentally friendly and entirely made in the USA.
ParknPool's resort and pool furniture collection now includes the Lucia Sling, Lanai Sling and Santorini Table collections. All three collections are manufactured using Marine Grade Polymer (MGP) and are available in three frame color options, River White, Gray and Greco. The Lucia Sling collection features a square arm and arched brace design while the Lanai Sling collection has a curved arm and straight brace design. They both are manufactured with durable marine grade acrylic slings that are easy to clean with standard household cleaners. All tables in the Santorini MGP collection feature the Marine Grade Polymer top and an aluminum base. Multiple sizes and shapes are available including square, oval, round and rectangular.
Marine Grade Polymer is completely recyclable and the manufacturing of the material does not emit any pollution or harmful chemicals. The durability of the MGP material maximizes product life cycles, thus reducing the overall impact on the environment. "The quality and look of our new Marine Grade Polymer collection is unmatched," explains Tom Keaton, ParknPool's Sales Manager, "the products are extremely durable making them a perfect addition to our existing product line."
ParknPool seeks to ensure that their clients have the best chance to find what they need. They strive to offer their clients the best selection of outdoor amenities and unmatched customer service. ParknPool achieves this by exceeding expectations while enhancing their clients' earnings. For more information about ParknPool's product line, including their new line of Marine Grade Polymer pool furniture, visit http://www.parknpool.com or call 877-777-3700.
About ParknPool Corporation:
ParknPool is a Veteran Owned SBE/WBE Company and is the leading online supplier of commercial grade furniture and site amenities such as picnic tables, trash receptacles, park benches, bleachers and playgrounds. ParknPool was founded in 1998 in Orlando, FL and moved their headquarters to Lexington, VA in 2005.