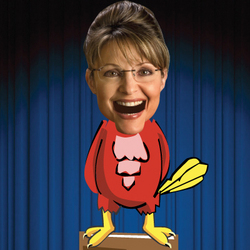 If Governor Palin does issue a statement, I suspect she'll throw in the phrases 'Maverick' and 'Hockey Mom.' Maybe even twice.
Hollywood, CA (PRWEB) October 21, 2008
A red-breasted cartoon parrot is prancing on a cartoon perch, itself balanced on a cartoon podium. But what's this? A 'McCain' placard on the podium? No wonder this bird looks familiar. That huge head is that of Governor Sarah Palin, Republican nominee for Vice-President of the United States.
'Maverick!' squawks Parrot Palin, as a spellbound crowd cries out in amazement. 'Hockey Mom!' the parrot posits. The crowd swoons!
A string of more such Palin-isms follow, and web comedy video watchers are flocking to YouTube (http://www.youtube.com/v/aP6SaTP0R3M&hl=en&fmt=18), where they can hang on every phrase this cartoon critter utters.
The brains behind this babbling bird: the web video and audio creators at World Wide Wadio, Hollywood, whose previous award-winning viral hits include the 'Dance, Dance Drop Your Pants' video for Twentieth Television's 'Family Guy,' and the yuletide spoof 'An Advertising Parable for the Holidays.'
'Parrot Palin' is World Wide Wadio's first foray into political humor, but Wadio President Paul Fey, the video's writer and producer, says he's not trying to ruffle anyone's feathers -- or, if so, just their funny tailfeathers.
"Watching Sarah Palin on the campaign trail, I was amused by how pointedly she repeats certain phrases, as if she's been trained to say them," Fey says. "Hearing her 'parrot' campaign buzzwords made me want to see that image as a cartoon."
(The Wadio president is no relation to Tina Fey, the comedy writer and actress whose impersonation of Sarah Palin has ignited the ratings of 'Saturday Night Live.' But, says Fey jokingly, "We didn't think there were enough people named Fey spoofing the esteemed governor.")
In fact, there's suddenly an entire 'Parrot Palin' theme running through YouTube, in no small part due to legendary comedian John Cleese of 'Monty Python' fame. Cleese ruminates about Palin's parrot-like characteristics (and declares her 'now the funniest Palin') in a popular video at http://www.youtube.com/watch?v=jMyNk8J1c8g.
Governor Palin's office has not yet issued any kind of statement responding to World Wide Wadio's parrot parody. But, Fey adds: "If Governor Palin does issue a statement, I suspect she'll throw in the phrases 'Maverick' and 'Hockey Mom.' Maybe even twice."
About World Wide Wadio:
World Wide Wadio is an All-Star team of writers, directors, producers and sound designers -- assembled from all over the world, and from all facets of the advertising, entertainment and Internet industries. The company specializes in radio advertising, web content and sound design, created in a 'state-of-the-universe' production facility in Hollywood.
See the World Wide Wadio website: http://www.wadio.com.
Media contact:
Richard Frank, Director of Business Development
World Wide Wadio
323-957-3399
rfrank@wadio.com
# # #