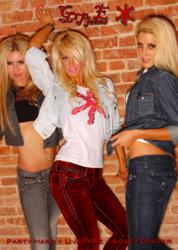 We just started selling Grp.E jeans and our customers are already being drawn to their fresh flavor.
San Francisco, CA (PRWEB) June 30, 2012
San Francisco fashion designer Tommy Pham's Grp.E jeans hit the scenes in 2010 and have taken the Bay Area by storm. This month, three local, trendsetting boutiques were added to the exclusive list of Grp.E jeans distributors: the newly opened 1314 in North Beach, the upscale Ooh La La boutique in Stockton and the South Bay favorite, Tryst of Morgan Hill. The store owners say Grp.E jeans serve up something unique for their community-minded customers.
"We just started selling Grp.E jeans and our customers are already being drawn to their fresh flavor," said Alfredo Arana, owner of 1314. "We're stoked to add Grp.E to our stock of exclusive San Francisco apparel lines that we carry."
The Grp.E team chose to collaborate with 1314, Ooh La La and Tryst because they share the same inventive, audacious spirit and a significant sense of community that embodies the Grp.E brand and Tommy Pham's mission to maintain a lifestyle legacy.
As the just-over-a-year-old lovechild of the locally rooted brands San Franpsycho and World Apparel, 1314 showcases local designers and artists in the trendy North Beach neighborhood of San Francisco, at 1314 Grant Street. San Franpsycho, a lifestyle brand born from Ocean Beach surfers who love to party hard, is an ode to the City by the Bay and centers around a love of community.
Tryst, nestled in downtown Morgan Hill at 17380 Monterey Street, has been in business for over four years and has become the go-to for trendsetters of the South Bay and beyond. With denim brands like LA Idol, Mek, Miss Me, Rock Revival and Panhandle Slim, Tryst carries the latest in cutting-edge men's and women's style.
"We've only carried Grp.E Jeans for about two weeks and I couldn't resist springing for my own pair," said Belinda Ettlebrick, owner of Tryst. "The fit is incredible and they are some of the most comfortable and cute jeans I've ever owned! They're soft like butter."
The "soft like butter" feel of Grp.E jeans comes from the premium denim fabrics carefully selected by Pham. The quality of the yarns and construction gives each pair of jeans a soft-hand feel for extra comfort so the partier wearing them can last all night.
Called the "Unique Boutique of Stockton", Ooh La La certainly lives up to its reputation. Just two blocks away from shopping hub, Lincoln Center, Ooh La La is hugged between two antique bright yellow box cars, adding to its originality.
Ooh La La is a newcomer to the Stockton area but has already made its mark as a posh, women's clothing haven carrying rare brands, only carried in a select few locations across the country. The uncommonly found Debbie Brooks handbags, Butter by Nadia "One Size, One Dress, Endless Possibilities", and the vintage inspired Effie's Heart and Nataya just to name a few.
"Tommy Pham delivers according to his word," said Angela Jefferson, a rep at Ooh La La. "He told me his jeans were fabulous and they were the best jeans I've ever had on my hinee! A lot of research went into this product and the results show. A woman's body was certainly kept in mind with the low-rise cut that we love in the front countered by the higher cut in the back allowing full coverage."
For more information about Grp.E Jeans and where to shop for them or to check out their complete line of apparel and accessories, visit grp-e.com. Don't forget to browse their Facebook and Twitter pages for the latest news about their promotions, trunk shows and other events.
About Grp.E Jeans
Grp.E (pronounced as groupie) is the lifestyle clothing brand launched in 2010 by celebrated San Francisco fashion designer Tommy Pham for men and women who love to work hard…and play even harder. In the Grp.E brand, Pham—the clothing designer behind the LL Cool J and G-Unit (by 50 Cent) brands of designer jeans—has created the perfect party wear for the up-all-night rockstar, with great fitting designer jeans that are comfortable, tough, and come off in a snap.
"E" is for everyone — everyone has the right to party and have fun while living on this green earth.
Grp.E believes everyone is connected yet unique therefore pocket bag is printed with the phrase "Everyone's Pink Inside". The asterisk logo, (…the figure of a star…) is the symbol of ambiguity and represents each rockstar's personal style and statement.
To inquire about carrying the Grp.E line or for more information about Grp.E Jeans, call (415) 891-7888 email at sales(at)grp-e(dot)com or visit them on the web at grp-e.com. To keep current on special events and promotions, like Grp.E on Facebook at facebook.com/grpes and follow them on Twitter twitter.com/GrpEjeans.