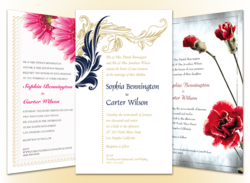 PartyPOP.com features over 2 million highly accomplished and professional companies in the event planning industry.
(PRWEB) May 23, 2012
PartyPOP.com recently announced free wedding invitations and an RSVP website for any engaged couple in the United States, Canada and the United Kingdom. The company has re-purposed their 2012 marketing budget in hopes of building brand awareness and loyalty. According to reports from within the Southern California based company, it's working.
PartyPOP.com features over 2 million highly accomplished and professional companies in the event planning industry. Some of these companies include Deb's Keep Sake Wedding Store, Masserman Photography, Granny Niece's Ice Cream Truck, Aesthetics by Irina - Day Spa and Salon, Posh N' Polished and Photography by Scott Levine.
Deb's creates a virtual shopping experience as though customers are walking through their favorite wedding boutique or gift store. Deb's is dedicated to providing the latest wedding styles and event trends. It is a great convenience to shop for bride and groom wedding cake toppers, wedding accessories, supplies, tiaras, wedding flutes and gift items in the comfort of the home at all hours.
Deb's online Keepsake Wedding Accessory & Gift Store offers a large selection of top brand name items, competitive prices, low shipping cost and free personalization on many items. Deb feels customer service is vital so there is an actual person answering phone calls without the long list of prompts and quick personal email responses. Also, Deb's Keepsake Wedding Store offers Gown Preservation Kits and bridal bouquet preservation which typically is not offered with most online wedding accessory store. A free personal consultation with Deb is part of the bridal bouquet preservation service. Shop at Deb's for convenient online shopping with the newest wedding accessory trends and styles and personal service. More information can be found at http://www.partypop.com/v/3549830.
Masserman Photography located in Keego Harbor, Michigan, specializes in wedding photography and family portraits. The company also serves Oakland County, Macomb County and Gennessee County. Brian Masserman has long been established as a photographic expert. His company "Masserman Photography" has been in business since 1991. His love for people and photography allows him to keep the passion going every day. He enjoys being an all purpose photographer, which allows him to accept new and different challenges daily and stay up to date with the ever changing technology.
Brian enjoys shooting weddings, families, children, celebrations, seniors, modeling, commercials and restorations to name a few. Currently, Brian is a member of the Detroit Professional Photographers Association, the Wedding and Portrait Photographers International and Professional Photographers of America. These organizations have helped him to achieve the essential training, ethical standards and overall professionalism that clients will appreciate. More detailed information can be found online at http://www.partypop.com/v/3778042.
Granny Niece's Ice Cream Truck serves Wilmington, North Carolina. With nearly 30 different ice cream categories to choose from including cones, ice cream big cookie sandwiches, sundaes, pushups, popsicles, and bars , Granny Niece's Ice Cream Truck makes sure everyone has exactly what they enjoy. Children's characters like Sponge Bob, Dora the Explorer, and Spiderman are available with more traditional snacks as well. Owned and operated by Denise Kennedy (Granny Niece), the ice cream truck caters birthday parties, office parties, weddings, summer camps, and any special event. More information can be found online at http://www.partypop.com/v/4387829.
Aesthetics by Irina - Day Spa and Salon serves Long Beach, California. The company provides massage therapy, bodywork, skin treatments, body treatments, waxing, makeup and nail care. Products include dermalogica, Jane Iredale and Clyton Shagal. Customers can get detailed information on the website on how products and services work. More information can be found online at http://www.partypop.com/v/3501554.
Posh N' Polished offers mobile children's spa parties and special occasion up do's and styles to Long Island, New York. The company has various packages to choose from and can customize parties to fit customer's desires. Created for ages 4 to 14, Posh N' Polished spa party for girls are great for birthdays, girl scouts, fundraisers, block parties or just a good time. The staff specializes in Up Do's and Elegant Styles for any special affair e.g. Weddings, Bat Mitzvahs, Sweet Sixteen's, Communions or even a night out on the town. All parties, including at home spa parties include invitations and goodie bags. More information can be found online at http://www.partypop.com/v/4380517.
Photography by Scott Levine serves Boston, Massachusetts and specializes in wedding photography, bar /bat mitzvahs, portraits, executives, real estate and commercial photography. Scott Levine became fascinated by photography at an early age. By age 16, he was already photographing portraits in the studio and learning wedding photography. He graduated from Rochester Institute of Technology and earned both an AAS in Applied Photographic Science and BFA in Illustrative Commercial Photography.
For over two decades, Scott has been creating photography for weddings, portrait and commercial assignments in a relaxed and elegant fashion. He considers each assignment a fresh canvas to communicate client's ideas and emotions through his photography in a fun and exciting way, into something visually delightful, exceeding their expectations. More information can be found online at http://www.partypop.com/v/1383554.
About PartyPOP.com: the largest party, wedding and event planning online network:
Before the Internet era, the professionals at PartyPOP.com were successful hands-on party planners and special event producers. For more than a decade PartyPOP has translated 30 years of party planning experience onto the Internet. Millions of vendors are listed on the network consisting of 60+ websites and tens of millions of customers have used the network to plan their parties, weddings and events. PartyPOP.com also provides party and event related tips, themes and ideas, as well as a free full wedding planning software called Seating Arrangement.
About Free Printed Invitations by PartyPOP.com:
PartyPOP provides every bride and groom across the USA, Canada and the U.K. with free beautifully designed wedding invitations, printed on 80lbs card stock paper with matching envelopes and wedding website. Even door to door shipping is included at no cost. There are no hidden fees, no obligations to buy and no strings attached!