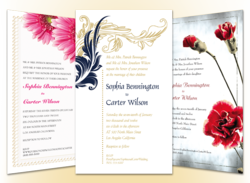 PartyPOP.com features over 2 million highly accomplished and professional companies in the event planning industry.
(PRWEB) May 23, 2012
PartyPOP.com recently announced free wedding invitations and an RSVP website for any engaged couple in the United States, Canada and the United Kingdom. The company has re-purposed their 2012 marketing budget in hopes of building brand awareness and loyalty. According to reports from within the Southern California based company, it's working.
PartyPOP.com features over 2 million highly accomplished and professional companies in the event planning industry. Some of these companies include Burton Entertainment, Events Unlimited, Little Peoples Parties, Windows on the Lake and Jennifer Spags Spingola.
Burton Entertainment, located in Nashville, Tennessee offers professional DJs and live bands for wedding and private party needs. Customers can choose from a variety of genres including jazz quartets/trios, dance/party bands, and DJs to ensure party guests are moving and having a great time. Burton Entertainment provides entertainment for different types of events spanning from weddings and corporate events, to bar/bat mitzvahs, military balls, holiday parties and the like. The company works one-on-one with clients planning every last detail to ensure that they are completely satisfied.
Customers can choose to either have Burton Entertainment provide the music, or to supply their own mix. Burton Entertainment provides state of the art, computer based equipment and top of the line sound reinforcement to produce the finest audio fidelity possible. More information can be found online at http://www.partypop.com/v/4114151.
Events Unlimited is a catering and event services company located in New York. Events Unlimited is licensed and approved for off-premise catering by the department of health services as well as workers compensation and liquor liability. The company is licensed by N.Y.S. to sell alcohol beverage services for catered events. The chefs are trained in quality control and have all the equipment needed to keep client's foods safe for guests, including; refrigerated trucks and thermal food carriers. This enables the company to prepare foods fresh at any site safely.
Events Unlimited is dedicated to providing the highest quality in catering, guarantee fair prices and an assurance that the products and services supplied will reflect the caliber of excellence for which the company is known for. Event services include floral design, balloon decorating, photography and event security to name a few. Events Unlimited also provides party rentals ranging from table accessories to portable bars, amusements and entertainment. Catering services are commonly provided during weddings, special or corporate events. More information can be found online at http://www.partypop.com/v/1931531.
From beginning to end, Little Peoples parties not only does the job, but defines what it means to put on a party! Provide them with your complete guest list and they will do the rest! They offer Character visits and can have a Princess, Fairy Godmother, or Doris the Explorer attend your function! They can customize a themed event as unique as your child. Some custom event ideas include Ballerina, Secret Spy, Pirates of the Puget Sound, Hawaiian Luau, Teen Idol, Cowboys and Indians, Super Heroes, and Build your Bear. They furnish events as well by offering handmade invitations, delightful dress ups, costumes, props, real china, fabric napkins, beverages, cupcakes or cakes, crafts, games, prizes, posh party favors, catering, thank you cards and more. More information can be found online at http://www.partypop.com/v/4086971.
Windows on the Lake is nestled on Long Island's beautiful Lake Ronkonkoma. Guests stroll the fabulous grounds, wander along the waterfall in their manicured gardens, and enjoy breathtaking views of the water with magnificent sunsets. It's the perfect lakeside setting for every wedding reception.
The reception hall has spectacular views, superb cuisine, and exceptional service. They also have professional banquet consultants and wedding planners that will give your reception a special style to create memories you'll cherish forever. More information can be found online at http://www.partypop.com/v/4369885.
Jennifer Spingola, known as "Spags" by her peers, has been amazing audiences around the world for years with the melodious "bite" of her sultry five string Viper electric violin. Since long before this unique and powerful instrument became a recognizable fixture in the modern music world, she has been transforming the sound of musical groups with her virtuosic technique, inventive arrangements, and compelling performance style.
Jennifer's credentials include classical training, on both piano and violin from the age of eight, and a music degree from the Pennsylvania State University. She is equally at home on the stage or in the studio and on a given day anything from classical concertos to hip-hop hooks, and virtually every musical style in between can be heard pouring out of her cutting edge five string Viper violin. She is currently writing and recording her own music in Los Angeles, where she is also training with top choreographers and aerial artists to produce a high-energy, breathtaking show! Spags continues to rise to the forefront of the music industry! She brings the highest possible level of musicianship to every client, event and performance. Specializing in luxury events, couture weddings and nightclub entertainment, Jennifer keeps a steady finger on the pulse of current trends and consistently raises the bar for industry standards. More information can be found online at http://www.partypop.com/v/4259676.
About PartyPOP.com: the largest party, wedding and event planning online network:
Before the Internet era, the professionals at PartyPOP.com were successful hands-on party planners and special event producers. For more than a decade PartyPOP has translated 30 years of party planning experience onto the Internet. Millions of vendors are listed on the network consisting of 60+ websites and tens of millions of customers have used the network to plan their parties, weddings and events. PartyPOP.com also provides party and event related tips, themes and ideas, as well as a free full wedding planning software called Seating Arrangement.
About Free Printed Invitations by PartyPOP.com:
PartyPOP provides every bride and groom across the USA, Canada and the U.K. with free beautifully designed wedding invitations, printed on 80lbs card stock paper with matching envelopes and wedding website. Even door to door shipping is included at no cost. There are no hidden fees, no obligations to buy and no strings attached!