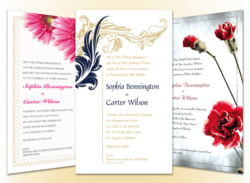 More professionals in the party, wedding and event industry are joining PartyPOP.com
(PRWEB) April 09, 2012
PartyPOP.com recently announced free wedding invitations and an RSVP website for any engaged couple in the United States, Canada and the United Kingdom. The company has re-purposed their 2012 marketing budget in hopes of building brand awareness and loyalty. According to reports from within the Southern California based company, it's working.
PartyPOP.com features over 2 million highly accomplished and professional companies in the event planning industry. Some of these companies include Jay Bee, The Polynesian Dance Troupe, Brides and Bloom and A Change of Face Inc. - Face and Body Painting.
Based in Miami, Florida, Jay Bee has over twenty years of experience performing locally and internationally. Jay entertains audiences with a variety of musical styles including Motown, Funk, Disco, Rock, Beach Music, Country, Reggae, Latin and Smooth Jazz. Jay also performs with his group, Crossover. Crossover offers a blend of Smooth Jazz, R&B, Rock, Disco, and Latin with their combined musical experience and passion. As a solo artist, duo, trio or with his full band, Jay can deliver musical diversity and set the mood of any event. More information can be found online at http://www.partypop.com/v/4350360.
The Polynesian Dance Troupe enhances the esthetic at events and parties of all sizes in Orange County, California. Corporate and private parties, birthdays, anniversaries and weddings are some of the occasions they serve. The professional dancers have won numerous first place awards in statewide competitions and have performed in Tahiti and Europe. The Troupe's entertainment is fun and appropriate for kids and adults alike. During kid's parties, shows can include dance lessons, games, crafts and teachings on various Polynesian islands. Adult shows always encourage audience participation to keep things fun and entertaining. Polynesian Dance Troupe can be found online at http://www.partypop.com/v/4057103.
Brides and Bloom is a floral wholesaler located in Tampa, Florida. The company specializes in floral supplies, wholesale flowers, wedding flowers, and other events. Customers can pick and choose any beautiful fresh cut flowers they desire. Their choices are then shipped from the grower directly to the designated location. The company works with farms in Ecuador, Columbia and Holland to name a few.
Brides and Blooms ships to a variety of events including fundraisers, birthday gatherings, anniversaries, bar or bat mitzvah, business conferences, quinceanera and holiday parties. The company specializes in popular and exotic fresh flowers and offer personalized, caring assistance to its patrons. More information can be found online at http://www.partypop.com/v/4070600.
Jackie Green owns and operates A Change of Face Inc. and Artistic Exposure– Face and Body Painting in Denver, Colorado. Artistic Exposure offers custom body and face painting for any event, promotion, or occasion. The company entertains crowds of all ages and any size. Jackie tailors work to the audience creating unique and enchanting designs to spur imagination. In addition to painting faces, Jackie will also paint wall murals, do henna tattoos, and prenatal belly painting. Jackie has won first, second, and third place prizes in numerous international painting competitions and has conducted classes and workshops across the United States. For more information click http://www.partypop.com/v/4092068.
About PartyPOP.com: the largest party, wedding and event planning online network:
Before the Internet era, the professionals at PartyPOP.com were successful hands-on party planners and special event producers. For more than a decade PartyPOP has translated 30 years of party planning experience onto the Internet. Millions of vendors are listed on the network consisting of 60+ websites and tens of millions of customers have used the network to plan their parties, weddings and events. PartyPOP.com also provides party and event related tips, themes and ideas, as well as a free full wedding planning software called Seating Arrangement.
About Free Printed Invitations by PartyPOP.com:
PartyPOP provides every bride and groom across the USA, Canada and the U.K. with free beautifully designed wedding invitations, printed on 80lbs card stock paper with matching envelopes and wedding website. Even door to door shipping is included at no cost. There are no hidden fees, no obligations to buy and no strings attached!