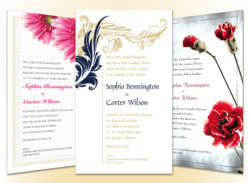 PartyPOP continues to expand its network of more than 2 million ambitious party,wedding and event vendors.
(PRWEB) March 28, 2012
PartyPOP.com recently made headlines by giving out free wedding invitations to any bride and groom in the United States, Canada, and the United Kingdom. PartyPOP.com already features more than two million special event professionals and is expanding every day with vendors listing their businesses on the network. Many of the party planning and special events professionals who have partnered with PartyPOP.com are now able to offer potential clients the same free wedding invitations.
PartyPOP.com features highly accomplished and professional companies with a proven track record of success and customer satisfaction. Some of these companies include Discount Dress Shop, A Butterfly Release Company and A Smokin' Salamander.
Discount Dress Shop was established in 2009 in La Habra, California. The founders of the company noticed a lack of high quality formal dresses at an affordable price. Through developing dynamic relationships with manufacturers and designers, Discount Dress Shop is now able to provide an array of dresses previously unattainable to many locations & budgets. Discount Dress Shop ships well-designed, sustainable and earth friendly products directly from California and has a customer service department reflective of the high quality dresses they sell.
Customer service representatives have expert product knowledge and are trained to help customers find exactly what they need. The website makes it simple for customers by providing advanced navigation tools including: shop by brand, price sorting capabilities, faceted search, and key product categories.
Discount Dress Shop was recently featured in the March 2012 issue of Bridget Marie Magazine, where model Stephanie Drake was posing in 6 styles of the company's dresses. The company is also actively involved with the Belle of the Ball charity, an organization that is serving underprivileged teens. Since 2010, Belle of the Ball has received 30 new dresses from Discount Dress Shop per year. More information can be found online at http://www.partypop.com/v/4339526.
A Butterfly Release Company is located in Central Florida. After years of experience breeding butterflies and becoming a member of the International Butterfly Breeders Association (IBBA), the husband and wife team started the company. While A Butterfly Release popularly offers an aesthetically pleasing replacement to rice or confetti to newlyweds, the butterflies can also commemorate an event, celebrate the life of a loved one, or draw a smile and laugh from any child at a party.
The company's mission is to help replenish the dwindling population of butterflies, while also bringing top quality butterflies and additional products to special occasion. As a member of the IBBA, Chad and Jill adhere to the strict Code of Ethics set by the Board of Directors and is also permitted to operate by the USDA. All butterflies are raised under pristine conditions and receive a special diet that insures the butterflies grow healthy and beautiful. Chad and Jill only use recycled products that are biodegradable, as well as solar power and reclaimed water to leave environmental footprint as they carefully raise the butterflies.
A Butterfly Release Company is committed to customer satisfaction and develops products that can easily be used at events, in traditional classrooms, and home schooling environments. Butterflies represent re-birth and new beginnings. Not only are they a creative and beautiful backdrop to any occasion but also an ethologically friendly addition. The company can be contacted online at http://www.partypop.com/v/4122891.
Salvatore Maggiore, a private chef, established A Smokin' Salamander in Hudson, Florida. His passion for cooking started while growing up in New York City where he has been cooking for most of his life. While Salvatore was growing up in a traditional Italian family, food was always an integral part of social gatherings with family and friends. When it was time for him to branch out, he turned his attention toward European cuisine.
Salvatore explored France, Germany, and his family's home country of Italy. His travels further nourished his interests and passion for cooking. Eventually, Salvatore returned to the United States working in both Chicago and New Orleans where he began to establish himself as a chef. He and his wife (who calls him "Salamander") finally decided to settle in Florida.
In Florida Salvatore continued working as an award winning chef for Ft. Myers and Tampa's top country clubs and restaurants. Now, Salvatore has taken the idea of a private chef/caterer in a new direction by combining the techniques of his new southern home with his love of European flavors. A Smokin' Salmander can be found online at http://www.partypop.com/v/4381498.
About PartyPOP.com- the largest party, wedding and event planning online network:
Before the Internet era, the professionals at PartyPOP.com were successful hands-on party planners and special event producers. For more than a decade PartyPOP has translated 30 years of party planning experience onto the Internet. Millions of vendors are listed on the network consisting of 60+ websites and tens of millions of customers have used the network to plan their parties, weddings and events. PartyPOP.com also provides party and event related tips, themes and ideas, as well as a free full wedding planning software called Seating Arrangement.
About Free Printed Invitations by PartyPOP.com:
PartyPOP provides every bride and groom across the USA, Canada and the U.K. with free beautifully designed wedding invitations, printed on 80lbs card stock paper with matching envelopes and wedding website. Even door to door shipping is included at no cost. There are no hidden fees, no obligations to buy and no strings attached!