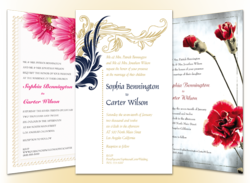 PartyPOP.com continues to expand its online network of more than 2 million party, wedding and event vendors.
(PRWEB) March 30, 2012
PartyPOP.com recently announced free wedding invitations and an RSVP website for any engaged couple in the United States, Canada and the United Kingdom. The company has re-purposed their 2012 marketing budget in hopes of building brand awareness and loyalty. According to reports from within the Southern California based company, it's working.
PartyPOP.com features over 2 million highly accomplished and professional companies in the event planning industry. Some of these companies include Apple Blossom Chapel and Gardens, Caprice Strings and Property GLO of Arkansas.
Apple Blossom Chapel and Gardens is located in a large old apple orchard in Grand Rapids, Michigan. The little white chapel is surrounded by a variety of new trees and bushes overlooking a pond. The garden is especially beautiful in early May when the apple blossoms, tulips and daffodils are blooming. The goal of Apple Blossom Chapel and Gardens is to provide its customers with a beautiful and comfortable setting to create marvelous lasting memories. The company can be contacted online at http://www.partypop.com/v/4368081.
Caprice Strings is based in San Diego, California. The musicians share years of experience in playing music for hundreds of weddings and have performed for multiple notable people from Russell Crowe to Margaret Thatcher. Customer satisfaction is at the center of Caprice Strings; so, music is played and adjusted to various special events. Performances take place at diverse locations including ships, airplanes, backyards, and poolsides. Caprice Strings is always willing to play music in just about any location customers choose. More details can be found online at http://www.partypop.com/v/4050295.
Property GLO of Arkansas is a Commercial Cleaning Company owned by Mike and Faith Matos. Both have extensive experience in the commercial cleaning service industry. The two started with commercial and industrial properties and later expanded to serve Property Managers and real Estate Agents with Rental Property and Real Estate Property Clean Up. The company offers free estimates along with a basic consultation. Property GLO of Arkansas uses state of the art equipment and special formulated chemicals to meticulously clean the most difficult properties. More information can be found online at http://www.partypop.com/v/4381011.
About PartyPOP.com- the largest party, wedding and event planning online network:
Before the Internet era, the professionals at PartyPOP.com were successful hands-on party planners and special event producers. For more than a decade PartyPOP has translated 30 years of party planning experience onto the Internet. Millions of vendors are listed on the network consisting of 60+ websites and tens of millions of customers have used the network to plan their parties, weddings and events. PartyPOP.com also provides party and event related tips, themes and ideas, as well as a free full wedding planning software called Seating Arrangement.
About Free Printed Invitations by PartyPOP.com:
PartyPOP provides every bride and groom across the USA, Canada and the U.K. with free beautifully designed wedding invitations, printed on 80lbs card stock paper with matching envelopes and wedding website. Even door to door shipping is included at no cost. There are no hidden fees, no obligations to buy and no strings attached!