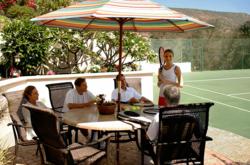 As Californians, we depend on cars to get to where we're going and without the right public transportation to allow people to travel safely, this proposed new law should be examined closely. - Pax Prentiss
Malibu, CA (PRWEB) March 20, 2013
State Senator Mark Leno from San Francisco recently introduced SB 635, new legislation that aims to change state laws and allow restaurants, bars, and nightclubs to serve alcohol until 4am. Supported by the California Restaurant Association and the San Francisco Council of District Merchants, the effort is seen as an attempt to boost nightlife tax revenue for the state.
The 100 most popular late night establishments generated $1.5 billion in 2012. 15 of them are located in the Greater Los Angeles area. Sen. Leno made the point that the top venues in Las Vegas, New York, and Miami are able to do business later, increasing the tax revenue they are able to generate.
Currently the state Department of Alcohol Beverage Control rules require that all bars, restaurants, and related business that are licensed in the state of California, stop selling alcoholics beverages at 2 a.m. and not resume sales until 6 a.m.
Questions are likely to arise as to the state-wide benefit of changes to current state laws. While additional state tax revenue is quite certain to be generated, so too are the number of driving under the influence (DUI) violations and citations. Currently, a DUI violation in Los Angeles County costs between $5,000 and $10,000, including fines, attorney fees, insurance rates, court-ordered alcohol treatment program, DMV penalties, and court fees. While tax revenue for the struggling state are likely to help maintain a recently balanced state budget, public safety concerns remain.
The new legislation faces opposition from the office of Los Angeles County Sheriff Lee Baca and State Senate Republican leader Robert Huff. Further study has been urged to measure the impact that new regulations will have on drunk driving rates and the neighborhoods around nightlife establishments. The state senate plans to begin official discussing the new bill during policy committees this spring.
"California has a different cultural climate than places like Las Vegas and New York," says Passages Malibu founder and CEO Pax Prentiss, "As Californians, we depend on cars to get to where we're going and without the right public transportation to allow people to travel safely, this proposed new law should be examined closely. We see far too many people who seek the guidance at our alcohol treatment center who have also experienced unfortunate accidents while under the influence of alcohol behind the wheel. "
At Passages Malibu - Addiction Ends Here™
About Passages Malibu & Passages Ventura:
Father and son team Chris and Pax Prentiss founded Passages Malibu in 2001. Its second location, Passages Ventura, first opened its doors in 2009. The two drug & alcohol abuse treatment centers offer an alternative to the 12 step/AA model of addiction treatment by utilizing a holistic program that focuses on the underlying issues of substance dependency, rather than attributing addiction to an incurable disease.
Both Passages Malibu and Passages Ventura accept insurance and each have earned the coveted Joint Commission (JCAHO) accreditation, which has only been given to 6% of the nation's behavioral health treatment programs.
Passages Malibu was named the #1 treatment center in the world by Healthcare Global and one of the "Most Luxurious Places to Dry Out" by Forbes magazine. The co-founders are also authors of an acclaimed series of addiction treatment books, including their groundbreaking, flagship title, The Alcoholism & Addiction Cure.
For general inquiries about treatment, contact: 866-233-1753.
For media inquiries, contact:
press(at)passagesmalibu(dot)com