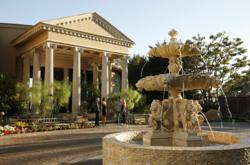 At Passages, we use our renowned philosophy and regarded holistic approach to address the underlying physical, mental, and emotional causes of alcohol addiction in order to help each client maintain their sobriety. - Pax Prentiss
Malibu, CA (PRWEB) March 29, 2013
April is National Alcohol Awareness Month, an observance put on by the NCAAD (National Council on Alcoholism and Drug Dependence) that promotes knowledge and education regarding all aspects of alcohol abuse and addiction. National Alcohol Awareness Month is in its 27th official year, with the slogan for 2013 being: "Help for Today. Hope for Tomorrow."
Alcohol Awareness Month is designed to increase public consciousness and reduce stigma surrounding alcohol dependency and addiction issues. "National Alcohol Awareness Month is an excellent outlet to educate people about the huge weight of alcohol addiction and abuse in our society," said Pax Prentiss, CEO and co-founder of the Passages Addiction Treatment Centers in Malibu and Ventura, California. "Through events like Alcohol Awareness Month, people become more educated about what causes addiction and other co-occurring disorders, causing stigmas to diminish and the quality of treatment to improve," explained Prentiss.
According to the Substance Abuse and Mental Health Services Administration (SAMHSA), more than 18 million Americans (8.5% of the population) suffer from alcohol dependency or alcohol abuse issues, and 25% of children have been exposed to alcohol abuse within their families.
One of the main aims of Alcohol Awareness Month is to promote prevention practices amongst teenagers and adolescents through education about health risks, drunk driving, addiction, coping skills, self medicating, depression, anxiety, and more. Communities are encouraged to participate through local, state, and national events including educational talks, social media engagement, or most notably the "Alcohol Free Weekend" challenge from April 5-7.
"It's encouraging to see alcohol dependency and addiction receiving the recognition, research, funding, and community understanding that it needs. At Passages, we use our renowned philosophy and regarded holistic approach to address the underlying physical, mental, and emotional causes of alcohol addiction in order to help each client maintain their sobriety and regain control of their lives, permanently," said Prentiss.
At Passages Malibu - Addiction Ends Here™
About Passages Malibu & Passages Ventura:
Father and son team Chris and Pax Prentiss founded Passages Malibu in 2001. Its second location, Passages Ventura, first opened its doors in 2009. The two alcohol and drug abuse treatment centers offer an alternative to the 12 step/AA model of addiction treatment by utilizing a holistic program that focuses on the underlying issues of substance dependency, rather than attributing addiction to an incurable disease.
Both Passages Malibu and Passages Ventura accept insurance and each have earned the coveted Joint Commission (JCAHO) accreditation, which has only been given to 6% of the nation's behavioral health treatment programs.
Passages Malibu was named the #1 treatment center in the world by Healthcare Global and one of the "Most Luxurious Places to Dry Out" by Forbes magazine. The co-founders are also authors of an acclaimed series of addiction treatment books, including their groundbreaking, flagship title, The Alcoholism & Addiction Cure. For general inquiries about treatment, contact: 866-233-1753.
For media inquiries, contact:
press(at)passagesmalibu(dot)com