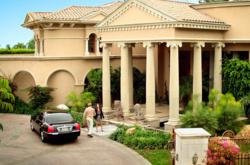 "We're proud to celebrate International Women's Day and all of the women who make a difference in the World." Pax Prentiss
Malibu, CA (PRWEB) March 08, 2013
Friday, March 8 2013 is International Women's Day, a global event aimed to recognize the political, economic, and social achievements of women throughout history, women of the present, and the generations of change-making women of the future.
In various countries such as Russia, China, Bulgaria, and Vietnam, International Women's Day is a well-recognized national holiday. The first formal International Women's Day event was conducted in 1911, and since then the effort has grown exponentially with events all over the globe. The UN theme for International Women's Day 2013 is "A promise is a promise: Time for action to end violence against women" and the official slogan International Women's Day 2013 is "The Gender Agenda: Gaining Momentum."
"Women are a huge part of our lives, and they are also a huge part of the treatment process," said Pax Prentiss, CEO and co-founder of the Passages Addiction Treatment Centers in Malibu and Ventura, CA. "It's usually a mother, a sister, a daughter, or a wife who gets someone into treatment and finally gets them the help they need. Women are important to all of us, and it's great to have a day dedicated to their recognition and celebration."
The International Women's day committee is encouraging people to get involved through various different outlets including workshops, locally organized events, social media engagement, and wide scale rallies. They also encourage participants to get involved with the official charity partners of IWD, this year being the World Association of Girl Guides and Girl Scouts. These organizations aim to empower girls and young women to seek leadership roles in society.
"Although my dad tirelessly helped me overcome my dependency for years, it was the birth of my daughter that was my true wakeup call and really changed my life around," said Prentiss. "We're proud to celebrate International Women's Day and all of the women who make a difference around the world."
At Passages Malibu - Addiction Ends Here™
About Passages Malibu & Passages Ventura:
Father and son team Chris and Pax Prentiss founded Passages Malibu in 2001. Its second location, Passages Ventura, first opened its doors in 2009. The two alcohol and drug abuse treatment centers offer an alternative to the 12 step/AA model of addiction treatment by utilizing a holistic program that focuses on the underlying issues of substance dependency, rather than attributing addiction to an incurable disease.
Both Passages Malibu and Passages Ventura accept insurance and each have earned the coveted Joint Commission (JCAHO) accreditation, which has only been given to 6% of the nation's behavioral health treatment programs.
Passages Malibu was named the #1 treatment center in the world by Healthcare Global and one of the "Most Luxurious Places to Dry Out" by Forbes magazine. The co-founders are also authors of an acclaimed series of addiction treatment books, including their groundbreaking, flagship title, The Alcoholism & Addiction Cure. For general inquiries about treatment, contact: 866-233-1753.
For media inquiries, contact:
press(at)passagesmalibu(dot)com