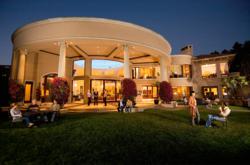 "This anniversary marks a significant milestone and symbolizes our tremendous dedication to quality, patient-centered care." Pax Prentiss
Malibu, CA (PRWEB) March 09, 2013
The renowned Passages Malibu and Passages Ventura Addiction Treatment Centers will celebrate two years of certification by The Joint Commission on the Accreditation of Healthcare Organizations (JCAHO) this March, 2013. Passages first received JCAHO accreditation after a lengthy evaluation process in March of 2011.
JCAHO is a private, nonprofit organization whose mission is to improve and monitor safety, treatment procedure, and client care within high quality healthcare organizations. The declared mission of JCAHO is "To continuously improve healthcare for the public, in collaboration with other stakeholders, by evaluating healthcare organizations and inspiring them to excel in providing safe and effective care of the highest quality and value." Most state governments now require Joint Commission Accreditation as a condition of licensure for healthcare institutions.
Founded by father and son team Chris and Pax Prentiss, Passages Malibu opened in 2001 and is the leading non-12 step, non-disease model, alternative substance abuse treatment center. After eight years of successfully treating people at the Malibu facility, the Prentiss' decided to open their second location, Passages Ventura, in the small beach city of Port Hueneme, California in May of 2009. Passages Malibu and Passages Ventura are two of only 6% of the nation's behavioral health treatment programs to earn the coveted JCAHO accreditation.
Pax Prentiss, who was formerly addicted to heroin, alcohol and cocaine, is now the CEO and co-founder of Passages and has been sober for 12 years. "Roughly 85% of the nation's hospitals are JCAHO Accredited, but addiction treatment centers only represent a very small portion of JCAHO approved facilities. It's a great honor for us to be accredited, and it reinforces our position of responsibility and leadership in the addiction treatment field," said Prentiss.
In order to receive and maintain JCAHO accreditation, a facility must undergo annual inspections and staff members must complete trainings to ensure that all necessary standards are met. The JCAHO committee looks for proficiency in all areas, ranging from occupational safety and health standards, wheelchair accessibility, sexual harassment awareness, gender sensitivity training, cultural competency, patient-centered compassionate care, security processes, HIPPA compliance and privacy procedures, fire safety procedures, workplace violence and emergency prevention, blood-borne pathogens and disease protocol, and more. Passages staff members completed the annual JCAHO compliance training necessary for the continuation of accreditation in December.
"This anniversary marks a significant milestone and symbolizes our tremendous dedication to quality, patient-centered care," explained Prentiss. "Our JCAHO accreditation is a visible demonstration to our clients that we follow each and every protocol accurately and effectively on a daily basis. We will continue our ongoing commitment to provide the safest, most effective treatment, and we look forward to many more years of JCAHO accreditation to come."
At Passages Malibu - Addiction Ends Here™
About Passages Malibu & Passages Ventura:
Father and son team Chris and Pax Prentiss founded Passages Malibu in 2001. Its second location, Passages Ventura, first opened its doors in 2009. The two alcohol and drug abuse treatment centers offer an alternative to the 12 step/AA model of addiction treatment by utilizing a holistic program that focuses on the underlying issues of substance dependency, rather than attributing addiction to an incurable disease.
Both Passages Malibu and Passages Ventura accept insurance and each have earned the coveted Joint Commission (JCAHO) accreditation, which has only been given to 6% of the nation's behavioral health treatment programs.
Passages Malibu was named the #1 treatment center in the world by Healthcare Global and one of the "Most Luxurious Places to Dry Out" by Forbes magazine. The co-founders are also authors of an acclaimed series of addiction treatment books, including their groundbreaking, flagship title, The Alcoholism & Addiction Cure. For general inquiries about treatment, contact: 866-233-1753.
For media inquiries, contact:
press(at)passagesmalibu(dot)com