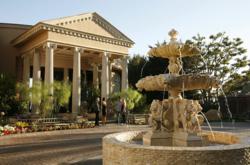 At Passages, we employ numerous treatment modalities specifically designed to repair the physical health of our clients. — Pax Prentiss
Malibu, CA (PRWEB) March 11, 2013
March is National Nutrition Month, an annual observance sponsored by the Academy of Nutrition and Dietetics. The campaign is designed to promote healthy eating, exercise, food education, and responsible lifestyle habits in order to remedy the health problems facing millions of Americans today. This year marks the 40th annual anniversary of the event.
"This observance gives us an opportunity to showcase the important role of nutrition in addiction treatment," said Pax Prentiss, CEO and co-founder of the Passages Addiction Treatment Centers. "At Passages, we employ numerous treatment modalities specifically designed to repair the physical health of our clients. Complete recovery requires healing of the whole person – not just mental and emotional health – which is why we teach our clients how to eat healthy, live healthy, and learn the tools to live an addiction-free life."
Passages employs a team of executive chefs who are responsible for creating locally sourced, organic, and delicious cuisine for clients during their treatment. "Many people who come to Passages are severely lacking in proper nutrition and overall physical health due to the damage caused by substances," said Prentiss. "Our nutrition program is designed to reverse the negative effects of addiction on the body, including depleted vitamin and nutrient levels in the diet."
Clients are treated by a medical doctor to determine if any malnutrition, vitamin shortage, or mineral deficiency is present. In addition to nutrition treatment, Passages utilizes a concurrent physical fitness training program. "Exercise is a huge part of the recovery process," explained Prentiss. "Many common ailments that aggravate substance dependency – anything from depression to headaches to stress to insomnia – can be remedied and alleviated naturally through exercise endorphins." Clients receive personal training sessions in a fully equipped fitness center outfitted with free weights, treadmills, elliptical machines, and more. They also have access to on-site tennis courts and regular classes with yoga instructors to practice strengthening, stretching, and meditation.
The theme for 2013 National Nutrition Month is "Eat Right, Your Way, Every Day." The Academy of Nutrition and Dietetics is encouraging participants to get involved through various outlets; common platforms range from social media to organized nutrition and/or exercise challenges.
"Passages Malibu is holistic – meaning we heal the whole person, mind, body, and spirit," said Prentiss. "We actively support National Nutrition Month and will advocate for better health practices, increased awareness, more treatment resources, and further educational options for people to recover from substance dependency and live a healthier lifestyle."
At Passages Malibu – Addiction Ends Here™
About Passages Malibu and Passages Ventura:
Father and son team Chris and Pax Prentiss founded Passages Malibu in 2001. Its second location, Passages Ventura, first opened its doors in 2009. The two alcohol and drug abuse treatment centers offer an alternative to the 12 step/AA model of addiction treatment by utilizing a holistic program that focuses on the underlying issues of substance dependency, rather than attributing addiction to an incurable disease.
Both Passages Malibu and Passages Ventura accept insurance and each have earned the coveted Joint Commission (JCAHO) accreditation, which has only been given to 6% of the nation's behavioral health treatment programs.
Passages Malibu was named the "Number 1 Treatment Center in the World" by Healthcare Global and one of the "Most Luxurious Places to Dry Out" by Forbes magazine. The co-founders are also authors of an acclaimed series of addiction treatment books, including their groundbreaking, flagship title, The Alcoholism and Addiction Cure. For general inquiries about treatment, contact: 866-233-1753.
For media inquiries, contact:
press(at)passagesmalibu(dot)com