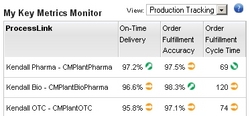 This collaboration with TraceLink helps us establish strategic relationships with our Life Science customers by improving communications, providing better production visibility and promoting joint operational execution.
Woburn, MA (PRWEB) August 16, 2010
TraceLink, Inc., the provider of the World's 1st Industry-Wide Supply Collaboration Network, and Patheon, Inc. (TSX: PTI), a leading global provider of contract development and manufacturing services to the global pharmaceutical industry, today announced a strategic partnership that will improve visibility and collaboration for Life Science companies across their entire product manufacturing and packaging lifecycle.
"The Patheon Partnering Philosophy is based on the establishment of strategic relationships with our Life Science customers that deliver increased competitiveness and operational improvement," said Paul Garofolo, Patheon's Executive Vice President, Corporate Technology. "This collaboration with TraceLink provides a key foundation for this vision by improving communications, providing better production visibility and promoting joint operational execution with our network of customers. As a result, companies can minimize cost, reduce cycle time and improve agility in today's complex pharmaceutical market.
The joint TraceLink - Patheon offering incorporates a comprehensive suite of visibility and collaboration software solutions, advanced integration capabilities and customized professional services designed to accelerate time-to-value. For SAP customers, a jointly developed integration adapter for SAP systems will be offered to accelerate customer on-ramp and improve data access for strategic decision-making.
"We look at our contract partners as an extension of our internal manufacturing capabilities so close communication and collaboration is important," said Brian Brown, Director, eCommerce Logistics at Cephalon, "This innovative partnership helps us improve our visibility into our manufacturer partner network and will enable real time integration for our daily business supply transactions between the enterprises."
"Connecting all people, processes and information across the outsourced manufacturing lifecycle is a cornerstone for a predictable supply network," said Shabbir Dahod, President and CEO of TraceLink, "Patheon's collaboration with us on SAP adapter development is just one element of this partnership that demonstrates their dedication to improving customer connectivity and building strategic customer relationships.
"Patheon and TraceLink plan to roll out the program to Patheon customers starting in the second half of 2010.
About TraceLink:
TraceLink helps brand owners, suppliers and contract manufacturing / packaging partners create a predictable manufacturing and supply network by providing them with software solutions that enable execution of any business process with any partner at any time in a secure business cloud. Using our integrated team collaboration platform and production visibility business process modules, companies can establish an inter-company business process web that enhances the performance, quality, and timeliness of their global outsourced manufacturing operations. With visibility across the production lifecycle, companies increase control of manufacturing operations, improve operational performance and reduce production scheduling risk.
TraceLink is funded by FirstMark Capital, a venture capital firm managing more than $2 billion in capital commitments. For more information on TraceLink and our solutions, visit http://www.tracelink.com.
About Patheon:
Patheon Inc. (TSX: PTI) is a leading global provider of contract development and manufacturing services to the global pharmaceutical industry. Patheon provides the highest quality products and services to approximately 300 of the world's leading pharmaceutical and biotechnology companies. Patheon's services range from preclinical development through commercial manufacturing of a full array of dosage forms including parenteral, solid, semi-solid and liquid forms. Patheon uses many innovative technologies including single-use disposables, liquid-filled hard capsules and a variety of modified release technologies. Patheon's comprehensive range of fully integrated Pharmaceutical Development Services includes pre-formulation, formulation, analytical development, clinical manufacturing, scale-up and commercialization. Patheon can take customers direct to clinic with global clinical packaging and distribution services and Patheon's Quick to Clinic™ programs can accelerate early phase development projects to clinical trials while minimizing the consumption of valuable API. Patheon's integrated development and manufacturing network of 11 facilities, and eight development centers across North America and Europe, ensures that customer products can be launched with confidence anywhere in the world. For more information, visit http://www.patheon.com.
###