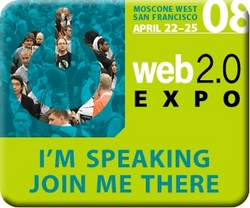 I'm excited to be a part of Web 2.0 Expo
Chicago, IL (PRWEB) April 9, 2008
Pathfinder Development, a leading user experience design and software development firm, is pleased to announce that Brian Dillard, Pathfinder's Rich Internet Application (RIA) Evangelist, has been invited to present at O'Reilly's Web 2.0 Expo which is taking place April 22-25, 2008 in San Francisco, CA.
"I'm excited to be a part of Web 2.0 Expo," Dillard said. "I spend a lot of time blogging about Ajax, but it's a whole different challenge to talk about programming topics before a live audience of my peers."
Dillard's presentation will explore the cutting-edge features that various browser vendors have begun to implement based on specifications that are still in the draft stage, such as HTML5 and CSS3. His aim is to encourage programmers to leverage these new capabilities even before they become available in all browsers. The talk is titled "Do Try This at Home: Ajax Bookmarking, Cross-site Scripting, and Other Web 2.0 Browser Hacks." His presentation will take place on April 25th from 3:50 to 4:40.
One major basis for Dillard's presentation will be his work with Really Simple History (RSH), an open source library for the management of bookmarking and browser history in Ajax/DHTML applications. Dillard describes RSH as "a collection of really ingenious hacks that help browsers do something they were never designed to do." Using RSH as a springboard, he will offer tricks and tips for other developers who want to power their Web 2.0 applications with next-generation features.
"It's an exciting time to be a web developer, and I hope my talk will help my fellow developers add some cool tools to their arsenal," Dillard said. "Open-source Ajax libraries and browser extensions can enable all sorts of really cool functionality, but individual developers don't need to wait for the big shots to show them the way. They should feel comfortable rolling up their sleeves and digging into the hidden recesses of the browser."
About Pathfinder Development
Pathfinder is a consulting firm specializing in software development and user experience design. Pathfinder delivers software applications that are easy to use, providing clients with the technology to enable business breakthroughs and competitive advantage. Pathfinder's clients range from early stage start-ups to Fortune 5 companies across a wide array of industries, including energy, healthcare, insurance, financial services, media and publishing. For more information contact Eleanor Taylor at 312-372-1058, email to etaylor@pathf.com, or visit http://www.pathf.com.
###