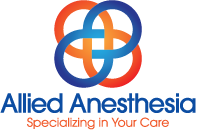 Orange, California (PRWEB) March 21, 2013
The average patient has many concerns and uncertainties about anesthesia that are best addressed before surgery by talking to their anesthesiologist, for whom patient safety and comfort are top priorities.
In addition to administering anesthesia in the operating room, the anesthesiologist is responsible for monitoring, protecting and safeguarding patients' critical life functions such as heart rate and breathing during surgery. They also provide medication and methods to handle pain and discomfort following surgical procedures.
In recognition of Patient Safety Awareness Week, March 3 through 9, Dr. Paul Yost of Allied Anesthesia in Orange, California, suggests several important questions to ask your anesthesiologist.
What is your training and experience?
Patients should ask whether their anesthesiologist is a medical doctor or a Certified Registered Nurse Anesthetist (CRNA). Some states allow CRNAs to administer anesthesia on their own while other states require an anesthesiologist's supervision. Either way, patients should know what kind of training and experience the individual, who supervises their anesthesia care, has.
Allied Anesthesia only employs high quality physician anesthesiologists, who are among the top 1 percent in the country. The group specializes in pediatric anesthesia and is the exclusive anesthesia provider for Children's Hospital of Orange County.
What will you be doing during the surgery?
Many patients don't realize that anesthesiologists are an integral component of the surgical team along with surgeons, nurses and others in the operating room. Administering anesthesia is just the first step. Anesthesiologists monitor the patient's vital signs and are prepared to respond rapidly in case of an emergency.
"I tell my patients that I will be watching every beat of their heart and every breath they take," Yost said. "That always makes them feel better."
What if I get nervous before my surgery?
Yost uses visualization techniques to calm his patients and help them feel relaxed.
"I like to have people think about their favorite vacation spot, their children or their favorite food," Yost said. "I tell them to think about things that make them happy."
He also assures them that choosing a top quality hospital and a quality anesthesiologist will go a long way toward easing their anxiety. That is especially true of parents, whose children will be undergoing surgery.
"It's normal to be appropriately concerned," Yost said. "But, if they do their best to get their questions answered ahead of time and they feel comfortable and confident by choosing a pediatric hospital with pediatric surgeons and anesthesiologists, that's the most important thing they can do."
Am I going to experience pain after my surgery and, if so, what can you do to help me?
Anesthesiologists also are pain management specialists. They have access to a variety of medications and techniques that will help decrease a patient's discomfort after surgery.
The physicians at Allied Anesthesia have done a lot of creative things with ultrasound guided nerve blocks for acute postoperative pain. Nerve blocks may be used as the main anesthetic technique or combined with general anesthesia to substantially reduce pain after surgery. They have proven to be invaluable to patients undergoing more invasive procedures such as joint replacement and bone fracture repair. Patients get discharged quicker and are able to begin physical therapy soon after surgery.
Nerve blocks are especially beneficial for patients who have a high intolerance to narcotics or those who have a history of chronic pain.
"We're pretty much ahead of the curve on the use of nerve blocks as well as medication," Yost said. "Our specialty is to make sure that when patients wake up from surgery they are comfortable and we can handle any potential discomfort they might have."
A patient's surgical experience has a lot to do with the individual's expectations.
"Patients, who expect to do well, generally do," Yost said. "If they come in with a positive attitude, confident that they have chosen the best hospital, the best surgeon and the best anesthesiologist, all that's left is for them to do is close their eyes, relax and let it happen."
About Allied Anesthesia: With 48 highly qualified anesthesiologists on staff, Allied Anesthesia provides adult and pediatric anesthesia services to St. Joseph Hospital of Orange, the Children's Hospital of Orange County, the Main Street Specialty Surgery Center, and many other Southern California healthcare facilities.
Allied specializes in pediatric anesthesia, performing approximately 12,000 pediatric anesthetic procedures a year. All of the group's anesthesiologists have a special interest in pediatric pain management and are all eligible for the newly established Pediatric Anesthesia Board Certification. All Allied Anesthesiologists are board certified, and they staff and manage the most efficient operating rooms in Southern California.
Allied is a member of the California Society of Anesthesiologists and the American Society of Anesthesiologists.
For more information, visit http://www.alliedanesthesia.com.