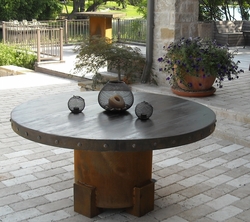 "Our goal was to design and manufacture a collection of patio dining tables that are stylish, simple and durable. We wanted to use eco-friendly materials", states Curt Roland. "The wood we use was cut 100 years ago instead of wood harvested today"
Dallas, TX (PRWEB) June 30, 2010
Bentintoshape.net announced today an eco-friendly collection of home and garden patio furniture. The table tops are created using Sinker Cypress which is an eco-friendly, green wood product of choice. Sinker Cypress is often used to obtain LEED points (The Leadership in Energy and Environmental Design - Green Building Rating System). LEED was established for market leaders to design and construct products that protect and save precious resources like forest products. Because Sinker Cypress is reclaimed, it is considered eco-friendly.
"Our goal was to design and manufacture a collection of home and garden patio furniture that is stylish, simple and durable. We wanted to use eco-friendly materials", states Curt Roland. "We chose Sinker Cypress because of its durability, density, tight grain, and most importantly, because it's a reclaimed wood product. The wood we use was cut over 100 years ago instead of wood harvested today."
Sinker Cypress, which is also known as deadhead cypress, river reclaimed cypress or river recovered cypress, was harvested during the late 1800's. As the logs were floated down river, some of the logs became saturated or were caught in log jams and sank. Since the day the log sank, it has aged in the river bottoms completely preserved. Minerals in the water where the log rests affect the color of the finished lumber.
The best trait of Sinker Cypress is its outdoor durability and longevity. Sinker Cypress has a natural preservative oil known as cypresseine. Cypresseine gives the wood resistance to rot and insects. This timber has very tight growth rings which makes it dense, stable and durable.
The bases of the table collection extend the look and feel of bentintoshape's fire pits. Constructed of Cor-Ten steel, the table bases are available in natural weathered Cor-Ten steel and several powder coated finishes. All of the tables are suitable for outdoor use on decks, patios and gardens.
For qualified buyers, dealer, wholesale and quantity pricing is available on all of our home and garden patio furniture, fire pits, and large indoor/outdoor planter boxes. For more information on our dealer pricing please email service(at)bentintoshape(dot)net
To sign up for bentintoshape's monthly newsletter, please visit bentintoshape.net and enter your email information. The monthly newsletter offers interesting home and garden tips and ideas, coupons and sale announcements.
###