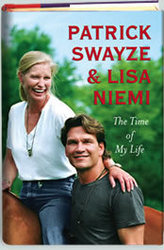 New York, NY (PRWEB) October 2, 2009
In a career spanning more than thirty years, Patrick Swayze has made a name for himself on the stage, the screen, and television. Known for his versatility, passion and fearlessness, he's become one of our most beloved actors.
But in February 2008, Patrick announced he had been diagnosed with stage IV pancreatic cancer. Always a fighter, he refused to let the disease bring him to his knees, and his bravery has inspired both his legion of fans and cancer patients everywhere. Yet in this poignant and moving memoir THE TIME OF MY LIFE (Atria Books; Hardcover; ISBN: 1439158584; 256 pages; $26.00), he recounts much more than his bout with cancer. In vivid detail, Patrick describes his Texas upbringing, his personal struggles, his rise to fame with North and South, his commercial breakthroughs in Dirty Dancing and Ghost, and the soul mate who's stood by his side through it all: his wife, writer and director Lisa Niemi.
A behind-the-scenes look at a Hollywood life and a remarkable love, this memoir is both entertainment and inspiration. Patrick and Lisa's marriage is a journey of two lives intertwined and lived as one--throughout their years in Hollywood and at home on their working ranch outside Los Angeles, and culminating in the hope and wisdom they've imparted to all who know them. This book will open the door for families, individuals, and husbands and wives to grow, bond and discover entirely new levels of love and sharing, proving that life shouldn't be lived as a series of endings, but rather as the beginning of greater strength and love.
Patrick Swayze was a three-time Golden Globe-nominated actor best known for his leading-man roles in two of the most beloved pictures of all time: Ghost and Dirty Dancing. Along with these high-grossing, history-making films, many of his other movies have achieved a cult following, and his television series, The Beast, was a critical success. Also a singer/songwriter, dancer, and stage actor, Swayze grew up in Houston, Texas.
Lisa Niemi wrote, directed and produced the film One Last Dance in 2004. She has held many film, television, and Broadway roles and also wrote, directed and starred in the play Without a Word with her husband, garnering six Drama Critics Awards. Prior to directing and acting, Niemi began her professional life as a dancer.
The Time of My Life
By Patrick Swayze & Lisa Niemi
Atria Books
Hardcover
ISBN: 1439158584
256 pages
Price: $26.00
Also available from Simon & Schuster Audio:
CD: 6 Hours on 5 CDs
ISBN 978-0-7435-9830-9
Price: $29.99
Download Edition:
ISBN: 978-0-7435-9831-6
Price: $17.95.
The audiobook gives an absolutely gripping, honest, and moving account of Swayze's life. Read by Swayze himself, he is a natural in the tradition of the great Texas/Southern storytellers. The audiobook gives listeners a rare opportunity to be in his company, hear his powerful words and experience his warmth, as he gives this beautiful and heroic performance.
###