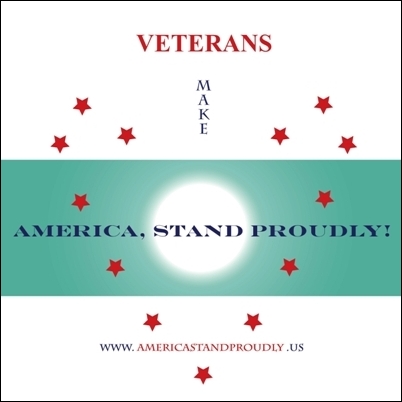 Recorded in Boston by Keith Gibson + euJAZZ, John Harrison is the vocalist for
(PRWEB) December 18, 2006
In appreciation of their considerable sacrifices, The AMERICA, STAND PROUDLY! Corporation is offering all United States Military personnel a free digital download of "AMERICA, STAND PROUDLY!" from now through January 6, 2007. This American Anthem co-written by husband and wife team Keith and Martha Gibson expresses in joyous music and lyrics what so many Americans feel in their hearts -- passionate patriotism and abiding faith in The American Dream.
Active, reserve, retired and veteran U.S. troops all qualify for this holiday gift of patriotic music. To download the MP3, please go to
http://www.americastandproudly.com/militarygift2006.html
"AMERICA, STAND PROUDLY!" isn't just a song of celebration," says Martha Gibson, Founder and President of The AMERICA, STAND PROUDLY! Corporation. "It's a call to each and every American to do our country proud, every day, every way we can." Recorded in Boston by Keith Gibson + euJAZZ, John Harrison is the vocalist for "AMERICA, STAND PROUDLY!" with Charlie Lewis on trumpet, Salim Washington on tenor saxophone and flute, Rollins Ross on piano, Denis Lambert on trombone, Melvin Graham on acoustic bass, and Keith Gibson on drums, timpani and percussion.
Keith and Martha Gibson began making music together in 1996, shortly before they married. Both ASCAP members, their compositions range from pop to jazz to country, and include the contemporary American Anthem, "AMERICA, STAND PROUDLY!" A former United States Army bandsman and graduate of Berklee College of Music, Keith has performed at all of Boston's top spots. In 1996 he formed his band, euJAZZ, which performs his original work as well as jazz standards. An Army Brat, his teenage years were spent in Hampton Virginia, a place he considers 'home'. Writer, songwriter, and editor Martha Gibson is a native and was a longtime resident of Cambridge Massachusetts. With an A.B. in The Classics from Radcliffe College, her creative writing graduate work was performed at Radcliffe Seminars and Emerson College. As President of The AMERICA, STAND PROUDLY! Corporation, her corporate mission is to inspire Americans to actively help America stand proudly in these complex, difficult, and sometimes scary times.
Contact: Tony Trupiano 1-866-209-8031 ext.111
# # #