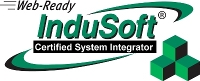 Auburn Hills, MI (PRWEB) March 12, 2013
Patti Engineering, Inc., a leader in control systems integration, today announced it will host a webinar this week with its partner InduSoft, a provider of award-winning HMI SCADA software for developing Windows-based applications in industrial automation, instrumentation and embedded systems. Ken Kutchek, vice president of operations at Patti Engineering, will host the session and provide an in depth review of best practices and lessons learned from his 23 years of experience in electrical engineering and automation controls.
Date: Wednesday, March 13, 2013
Time: 8:00 a.m. – 9:00 A.M. CDT
3:00 p.m. – 4:00 P.M. CDT
Topics: InduSoft partner, Patti Engineering – who was named Control Engineering's 2013 System Integrator of the Year – has served many customers as a System Integrator. In this webinar, we will hear from Kutchek for an inside look at some of the best practices for systems integrators to help improve the development, deployment and maintenance of projects.
Presenters: Ken Kutchek, vice president of operations at Patti Engineering
Register: To participate in this webinar, please register here. Attendees can submit questions during the event for a Q&A session with Kutchek when signing up or during the event.
About Patti Engineering, Inc.
Patti Engineering, Inc. is a CSIA Certified control systems integration company offering high-caliber engineering and software development services. Patti Engineering's technical expertise in electrical control and information systems provides turnkey control systems integration for design/build, upgrade/retrofit and asset/energy management projects. Industrial automation, production intelligence and shop floor IT solutions services include: project management, electrical engineering, hardware design, hardware procurement, software development, installation, calibration, start-up testing, verification, documentation, training and warranty support. Customer satisfaction and project success earned the company Control Engineering Magazine's 2013 System Integrator of the Year. For more information, visit http://www.pattieng.com.