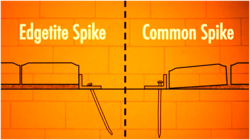 Enhance your hardscape project with the durable locking spikes.
Mechanicsburg, PA (PRWEB) April 29, 2013
Whether creating a walkway or patio, Edgetite Spikes can make landscaping projects quicker and more efficient for paver edging. Edgetite Products, Inc., has invented a new spike that allows improved paver edging projects, eliminating future repairs.
The spikes help solve separation problems that can occur when using regular spikes designed for paver edging. The Edgetite spikes make it easy to ensure that the pavers are installed properly, which eliminates needless time spent on re-installation.
To quickly and efficiently beautify an outdoor space, Edgetite paver spikes, complete with a how-to installation guide and video, can help transform landscape project into project that will last.
By enhancing landscape with the durable locking spikes, the paver edging can create a barrier between the landscape and the pavers.
Edgetite™ spikes are unique because of the patent pending angled tip design. As an Edgetite™ spike is hammered into the compacted base, the angled tip deflects away from the installation, while the head pushes the edge restraint tightly against the brick. The angled final position of an installed Edgetite™ spike resists frost heave, while adding strength and longevity. Featuring easy to install and connectable paver edging spikes, the spikes are designed to last.
Ask local landscape suppliers about Edgetite™ spikes for future paver edging project. See videos showing how Edgetite™ spikes work at http://www.edgetite.com.
Watch a short video on how the Edgetite spike works compared to traditional spikes http://www.edgetite.com/videos/ .
Media Contact
John Goodman
jgoodman(at)edgetite(dot)com
630-726-9125