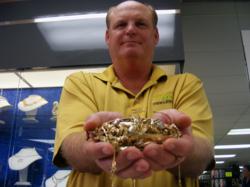 Columbus, GA (PRWEB) September 28, 2012
With one in four American households considered unbanked or underbanked, pawn shops have become a primary source for financial services. Money Mizer Pawn & Jewelry, an emerging chain of franchised pawn stores headquartered in Columbus, Ga., continues to expand across the country and serve this growing market.
This summer, Money Mizer debuted in Florida for the first time, opening locations in Jacksonville and Panama City, and opened a fourth Georgia location in Macon. The company expects to open a total of 25 locations in Florida over the next three years, with 150 stores open nationwide by the end of 2015.
"With so many Americans in need of basic financial services, pawn shops have become a reliable source for small loans and cashed checks," said Robbie Whitten, president and CEO of Money Mizer. "Banks don't service this sector of the population, it's not worth their time, and we're happy to offer some support and help meet the needs of people in the community."
Whitten founded Money Mizer in 1980 with his father Robert Whitten. The company has since expanded to seven locations in three states and has experienced tremendous growth, loaning customers more than $26.4 million to date. In 2009, Money Mizer launched a franchise program and expects to continue adding more locations, primarily in cities with populations of at least 50,000, including college towns and military bases.
At Money Mizer, pawnbrokers lend money on items of value ranging from gold and jewelry to electronics, musical instruments and almost anything imaginable. Loans are based on the value of the collateral. When a customer pays back the loan, their merchandise is returned or they may choose to surrender the collateral as payment in full.
"Many people who depend on pawnbrokers today are working families who use pawn loans to simply keep the electricity on, the rent paid and their gas tanks filled," Whitten said.
The average median household income of people who pawn at Money Mizer ranges between $40,000 and $60,000 and is continuing to increase due to a number of factors related to the economy, including job losses, foreclosures and cost of living increases.
Technology has also played a large part in the growth of the pawn industry and will continue to do so in the future. As more untraditional customers tap pawn shops for loans, many are concerned about privacy. In March, Money Mizer launched PawnConfidential.com, an online resource that allows customers the opportunity to obtain a cash loan quickly and securely with complete discretion and without visiting a pawn shop.
"Although companies such as Money Mizer have helped to change the sometimes-negative connotation associated with pawn shops, technology helps cater to the non-traditional customers that rely on pawn services but are uncomfortable going into a shop," Whitten said.
The new site provides short-term loans in exchange for collateral in the form of high-value items like jewelry, watches, precious metals, coin collections, cameras, fine art, antiques and collectibles. Valuables held as collateral during the loan repayment period are bar-coded and kept in a secured vault until the loan has been paid back. When the borrowed amount is paid in full, the items are promptly returned to the customer. Depending on the retail value of the item, loans range between $50 to $100,000 and no credit reporting or checking takes place.
For more information, please visit http://www.moneymizerfranchises.com.