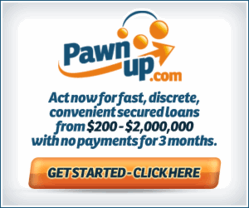 You can learn more about that and other topics on PawnUp's Facebook page!
(PRWEB) November 09, 2012
The pawn store's page includes information about their latest news and events, as well as articles and tidbits related to the industry in general. It's a single source of information on everything pawn-related, and can be invaluable to someone thinking about pawning or selling items for a quick loan online.
Many of the articles posted are about which pawned items get the most "bang for a buck" and why. If someone is looking to sell diamond ring, or engagement ring for example, one should know about the four "C's" of diamond quality, since most people mistakenly think that the bigger the diamond is, the more it is worth.
Visitors of PawnUp.com's Facebook page may also learn about how many current events relate to the pawn industry. How much one can currently get for an iPhone or and iPad, for example? With the price of gold moving higher every day, one may want to know whether it's a good time to sell or pawn gold online. Like diamonds, there are many details about gold that can determine how much one can get for a piece of jewellery or a luxury watch. Before people decide to sell jewellery online, they may want to check out PawnUp.com's Facebook page for guidelines on how much the items are worth.
With the addition of their Facebook page, PawnUp.com has added social media to their growing list of ways to communicate with their customers, and educate them on all aspects of the pawn shop industry.
About PawnUp.com
PawnUp.com is a full-service online pawn shop whose primary goal is to allow its customers to get cash fast any time they need it, with complete discretion. PawnUp.com is a licensed business and complies fully with all applicable laws governing its pawnbroker activities. Learn more about PawnUp.com online pawn shop at http://www.PawnUp.com