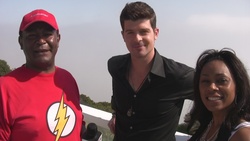 New Label Generation is the word, and we want you to remember we told you first.
Los Angeles, CA (PRWEB) July 4, 2010
"New Label Generation is the word, and we want you to remember we told you first." These are the words of Pax Stereo CEO Mario Hemsley, the man at the head of a revolution he says is occurring right before your eyes. "It's undeniable that NOW is the time of the indie artist and producer, and the new target is Internet television."
Victor Allen, a man who is interfacing daily with the online community via Pax Stereo Tv (http://www.paxstereo.tv) agrees. "Indie Internet television is a natural evolution, and many of us in the indie community have been waiting a long time for it."
But things have not been friendly as of late to independent video producers as they find themselves increasingly being ejected from sites such as Youtube, Livestream and others without any ability to respond to alleged copyright infringement complaints. "In difficult times, we like to focus on the positive. It is because of this that we would like to acknowledge the efforts of Justin.tv and Ustream to embrace the independent video producer community, and we feel we should support them also by making them our primary means of distribution. At least they want us." Mario is referencing the recent Youtube lockout of Pax Stereo, now at over 3 months which has left them with means to contact Youtube and with no responses to their many communications. "We recognize current trends and were actually expecting something like the Youtube action, just not from them. We always did wonder who it would be to embrace the corporate culture and abandon fans. Now we know who really cares."
Pax Stereo Tv is now beta testing 24 hour broadcasting on Justin.Tv, Ustream, Stickam, and the new Kelsey Grammar platform TODHD using Pax Stereo Tv's weekly programs including "HipHop Republican", "Morning Coffee with Mario", and "Virtually Uncut." The channels are simulcast live on Internet radio outlets such as Shoutcast.com, and a 24 hour Tv Guide (http://www.paxstereo.tv/tvguide) is also available. The latest Pax Stereo Tv imprint, NeoPop Tv (http://www.neopop.tv) has just entered beta testing and is actively seeking content contributions from the independent video and film communities.
New features include programming that focuses on Creative Commons licenses which allow legal exchange of music and videos, and on featuring programs from organizations such as the EFF (Electronic Frontier Foundation) who are leading efforts to fight copyright legislation abuse using the DMCA and potentially the ACTA agreement if passed.
"The independent internet development community is under fire, and we refuse to go along with the threats and policies now being forced upon us by Youtube, Livestream and others who are willing to throw consumers under the bus in order to please the major studios." This is the tone echoed by Pax Stereo CEO Mario Hemsley, "If YouTube is going to effectively abandon us, then maybe it is time for us to abandon them."
For more information visit the Pax Stereo website or contact Victor Allen on Facebook or Twitter.
# # #