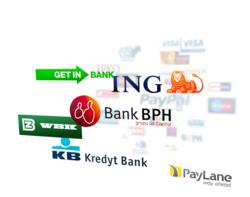 We want to offer the widest possible range of online payment methods for Polish customers and e-businesses that want to expand to this local market. - Ula Lachowicz, Brand Manager at PayLane
(PRWEB UK) 15 March 2013
PayLane.com, the winner of the TNW Polish Startup Awards in the best e-commerce category, began 2013 with launching online payments in Germany. But they still remember about other European markets. Last year they expanded to Poland, now they're enriching their offer with five new local wire transfers: Bank BPH (GE Capital Group), ING, Kredyt Bank, BZ WBK and Getin Bank.
Why is it so important for a company that claims to be an international online payments provider? Well, when an e-business wants to sell globally, it definitely needs most common payment methods such as credits cards or PayPal. But when one wants to get into the European market they have to remember about local conditions. Almost every country has its popular domestic payment methods. For example giropay in Germany, iDEAL in the Netherlands or wire transfers in Poland. If you want to get into these markets you need to adapt to local users' habits.
PayLane started to cooperate with banks in Polish market in 2012. At first they were offering online wire transfers from nine banks: Bank Millennium, mBank, Credit Agricole, Alior Bank, MultiBank PKO BP, Deutsche Bank, Alior Sync, Inteligo. Today they add five more to the list: Bank BPH (GE Capital Group), ING, Kredyt Bank, BZ WBK and Getin Bank and they're still working to integrate with new banks.
"Wire transfers are one of the most popular online payment methods in Poland. Internet users are getting more used to credit cards, but they still trust their banks the most. That's why PayLane decided to add five new local wire transfers. We want to offer the widest possible range of online payment methods for Polish customers and e-businesses that want to expand to this local market," says Ula Lachowicz, Brand Manager at PayLane.
Currently, PayLane is working on integrating additional local wire transfers in order to expand the portfolio. They plan to implement all important banks this Spring.