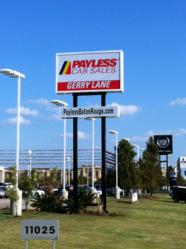 Now that the store is open, customers in Baton Rouge can experience our Drive More…® Pay Less way of doing business. - Keith Wiesman
Baton Rouge, LA (PRWEB) November 20, 2012
Payless Car Sales, Inc., America's Used Car Company®, announced today that Gerry Lane's Payless® Car Sales is now open for business at 11025 Reiger Road. The beautiful facility, originally built as a Saturn store, is located on Interstate 10 in Southeast Baton Rouge and is situated next to Gerry Lane Cadillac.
The store opening allows Baton Rouge customers to buy quality used vehicles with confidence from two names they know and trust: Gerry Lane and Payless® Car Sales. The store features the Payless Assurance® Certified Pre-Owned (CPO) program, which delivers peace of mind to customers with a rigorous vehicle inspection, vehicle reconditioning, comprehensive limited warranty, CarFax® vehicle history report, roadside assistance, rental reimbursement, and travel protection all included at no cost to the customer.
"Gerry Lane's new store is a part of Payless' focus to bring in the very best franchisees in automotive retailing," said Keith Wiesman of Payless® Car Sales. "Now that the store is open, customers in Baton Rouge can experience our Drive More…® Pay Less way of doing business."
Mike Venable, the store's General Manager, adds "Our staff is excited that we are now Payless® Car Sales and offering the Payless Assurance® Certified Pre-Owned program. This is exactly the kind of program our customers are looking for."
About Gerry Lane Enterprises
Gerry Lane Enterprises is a family-owned business serving its car-buying customers for over 50 years, the last 25 years in the Baton Rouge market. The Payless® Car Sales franchises are being brought into the organization to complement an already impressive dealership lineup that includes Chevrolet, Buick, GMC, Cadillac, Saab and Mitsubishi. The Gerry Lane organization has a well-earned reputation in Baton Rouge for giving back to the community with over 400 charities benefiting from the company's many charitable works.
About Payless®
Payless® Car Sales, Inc. and Payless® Car Rental System, Inc., based in St Petersburg, FL, are wholly-owned subsidiaries of Avalon Global Group. Avalon has over 40 years of franchising experience in the automotive industry. Payless® Car Sales awards franchises to qualified automotive dealers in the U.S. To learn more about Payless® Car Sales and Payless® Car Rental opportunities contact Keith Wiesman.
Drive More® … Pay Less video:
http://www.youtube.com/watch?v=hcp2XdMHVAs&feature=player_embedded