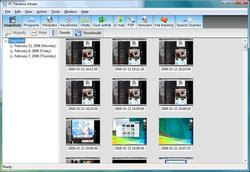 Cyberbullying is an on-going thing
New York, NY (PRWEB) July 16, 2008
While reports and stories in the media focusing on Internet predators have become all too frequent, the closer-to-home threat to our children may really be cyberbullying, also known as electronic or online bullying. A recent survey of 395 students (11 to 19 years old) found that 28% of students have been cyberbullied, and more than 1 in 7 admitted to acting as the bully.
"Cyberbullying could be the biggest online threat facing teens today," says James Leasure, co-founder of Pandora Corp. "Of course Internet predators do still exist, but statistically, kids have a much greater chance of being involved in some way with electronic bullying."
Most cases of cyberbullying go undocumented because, fortunately, many kids are able to shrug off the 'unkind words' and look the other way. But there are some cases that make national headlines when they turn into tragedies, such as the Megan Meier case in 2006. Larger cases like this have prompted several states to adopt legislation that makes online bullying illegal.
"Cyberbullying is an on-going thing," says Leasure. "Because it often continues after school and during the summer months, it's not something that schools can easily govern. That's why states are now getting involved and are trying to give more power to local law enforcement to deal with the problem. However, the anonymity offered by the Internet makes it hard to track down the bullies."
Cyberbullying comes in many forms. It can be as simple as unkind words via instant messenger or through a social networking page, and as serious as vicious life threats. Some bullies may even create a webpage or social network page, pretending to be the victim, and construct a false profile that depicts the victim in an unfavorable way. False profiles and webpages can also be used to carryout Internet smear campaigns against victims.
Leasure notes, "There are so many ways that cyberbullying can take place. But the bottom line is that kids don't realize the damage it causes - not only for victims and their families, but for the bullies too. Once you put something on the Internet, it's there for good. If you are involved in or associated with something that many would look unfavorably upon, you can face consequences for it later in life, like being rejected from college or turned down for a job."
So what can parents do to help curb this social malady affecting our society's youth?
"Parents are the key to this whole issue," explains Leasure. "They need to be involved and monitoring the computer and Internet activity of their kids. If they see something that isn't right, they need to act as parents and correct the issue."
Leasure believes that all parents should be using computer monitoring software like Pandora Corp's PC Pandora 5.0. The program works like a DVR for the PC, taking sequential snapshots of everything that happens on the computer, so parents can play back and watch all activity.
"Monitoring computer activity is made pretty easy when you have a detailed visual record of everything your child did on the computer," says Leasure. "There's no way a parent should be able to play the 'I didn't know' card when powerful tools like his are available."
PC Pandora captures further details of user activity in text-based files. Instant messenger chats, emails, websites, keystrokes, peer-2-peer files traded, and programs accessed are all recorded and documented for parental review. PC Pandora lets parents set up Internet filters and program blocks to make sure their kids aren't accessing programs or content that parents find objectionable. There is also the invaluable IRIS feature that will email a busy parent at work with updates on child activity.
Finally, Leasure emphatically states that "parental awareness is truly the key to fixing this problem. If your child is the victim - or worse, the bully - it's time to step in. it's not being over-protective; it's trying to stop the current generation from 'virtually' destroying themselves emotionally. Monitoring software like our PC Pandora plays a vital role in 21st century parenting by providing information needed to be an effective Net-generation parent. With the insight our software provides into a child's daily struggles, parents can begin to put a stop to Internet threats like cyberbullying."
A 2-hour trial of PC Pandora 5.0 monitoring software is available at the PC Pandora website.
Cyberbullying Statistics:
A recent survey of 395 students, ages 11 to 19, was conducted by the Kids/Teen Division of the Maine-based online safety organization Working To Halt Online Abuse. The study found that:
· 28% of students have been cyberbullied, but…
· Just over half tell their parents or another adult about it; of the students who did not report the cyberbullying, 25% felt it wasn't a big problem or didn't want to make a big deal out of it
· 65% reported the cyberbullying was via IM, followed by email, MySpace, chat rooms and online games
· 43% were cyberbullied by someone their age or in the same grade
· 30% blocked or deleted the cyberbully, while 16% ignored them
· 54 students admitted they had bullied somebody online themselves
About PC Pandora:
Pandora Corporation was formed with one goal - to help our customers monitor, control and protect their families and themselves online. First released in mid 2005, PC Pandora has been constantly upgraded to industry-leading specifications and has received accolades from users, reviewers and even school districts and law enforcement agencies, who use the program to help in the day-to-day supervision of the children and citizens they are charged with protecting. The company website devotes space to helping parents with 18 Tips to Safe Surfing and Pandora's Blog, where current news in the world of online safety is discussed regularly. PC Pandora has vaulted into a leadership position by boasting a combination of features that unparalleled in the monitoring industry. In February 2008, Version 5.0 was released, again widening the spectrum of coverage and protection offered by the program. In addition, through the company's SAFE SCHOOLS program, schools and school districts can receive up to $100,000 worth of software to aid in protecting their students and their PCs. PC Pandora is also now available through the Pandora Corp. store at Amazon.com.
Reporters and Producers: Looking to cover this topic? We are your technology solution and experts. Software is available for review and testing. Staff members are always available for interviews. Let us help you show your audience how easy it can be to keep their kids safe online.
###