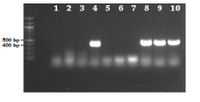 Solon, OH (Vocus) November 22, 2010
AMRESCO manufactures and distributes quality biochemicals and reagents for research in the life science and diagnostic markets, focused on offering value to customers through improved safety, time savings and convenience. AMRESCO introduces Ready PCR Mix, 2X, a unique master mix that allows researchers to quickly assemble, perform and analyze multiple reactions. This one-of-a-kind mix includes a non-interfering fluorescent DNA dye in the mix for instant visualization of the PCR amplified bands.
The Ready PCR Mix is complete and optimized for PCR-to-Gel-to-Visualization, significantly reducing sample handling and contamination errors. An aliquot of the PCR reaction performed with Ready PCR Mix is loaded directly onto the gel. Electrophoresis is monitored with the non-interfering tracking dye included in the mix. The mix also includes a non-mutagenic and non-toxic DNA dye, so that immediately after gel electrophoresis the results are directly visualized using a standard u.v. transilluminator. By eliminating the need for ethidium bromide, personal and laboratory safety is greatly improved. Ready PCR Mix's high fidelity DNA polymerase produces high yields from even long and difficult templates. Stable and viable through multiple freeze-thaw cycles, this convenient, time-saving product is ideal for colony screening. For more product information visit AMRESCO.
About AMRESCO Inc.:
AMRESCO Inc, is an ISO 13485 and ISO 9001 registered privately-held biotech company. Founded in 1976, AMRESCO is an original manufacturer and supplies high purity biochemicals and innovative and custom reagents for research. AMRESCO's Research Products division specializes in products for electrophoresis, Western blotting, DNA and RNA research as well as the core biochemicals that are used in every lab. AMRESCO's global network consists of over 60 distributors represented in more than 50 countries.
###