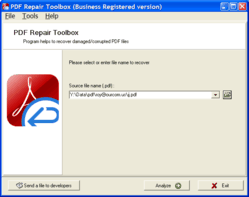 PDF Repair Toolbox, a specialized tool for recovering the contents of damaged PDF documents.
Sacramento, CA (PRWEB) March 12, 2013
Repair Toolbox, one of the leading suppliers of specialized software for file repair and data recovery, presents a considerably enhanced version of PDF Repair Toolbox, a compact, fast and extremely efficient product capable of extracting the contents of damaged PDF documents. The program opens and repairs PDF files with the most complex structure that were damaged after all kinds of data corruption incidents caused by virus attacks, HDD failures or experiments with system software. PDF Repair Toolbox uses proprietary file analysis and recovery algorithms to scan the structure of damaged files without altering it and identify recoverable text, images and other objects. The program can also fix PDF file problems caused by existing bugs in a number of PDF editors. Thanks to the intuitive interface of this PDF repair tool, it can be used by people with no recovery experience and only basic computer skills. Restored documents can be saved to compressed and uncompressed PDF files and the user is allowed to select the PDF format version they will be saved in.
"The creation of PDF Repair Toolbox was a logical step for a company that specializes in data recovery tools of all sorts. PDF is one of the most popular formats on the Internet, so even statistically a good PDF repair solution was a must for our portfolio," says Ivan Bobrov, Lead Developer at Repair Toobox. "Our sales are a good proof of this idea, and we really glad to know that the product is helping a lot of people out there."
The demo version of the program and other products can be downloaded from the official manufacturer's website: http://www.repairtoolboxx.com/products.html